The project is located on two connected floors of a multi-story office building in Zhangjiang High-tech Pack. The venue is quite large and fully open. Recall that 'street block' concept applied in CIB FINTECT headquarter in the high-rise building located in Lujiazui, the idea continues in this project. Although the external environment is quite different, the starting point of relationship between city and people remains.
在张江高科技园区的中区,有一片多层办公楼区域,兴业数金研发中心占据了其中两栋楼的两层,形成超大面积的通透空间。在陆家嘴的超高层写字楼里,兴业数金总部的办公空间被置入"街区"的概念,而在这里,同样的想法延续下来,虽然在外部环境上多层建筑不同于超高层大楼,但关注城市与人的关系的出发点不变。
The 'street' concept is adapted when remodeling the space sequence of an R&D office. All functions except office area are integrated into 'street', and thus the 'street' run through the whole space.
兴业数金研发中心采用了"街道"的设计,将除办公外的所有功能整合在"街道"里,并利用"街道"贯穿起整个空间。
reception|前台接待区
Engineers at Internet companies often mock themselves for long working hours. Seriously, when it comes to high-intensity work, a comfortable place is especially important.
互联网公司的工程师们常常以"996工时制"自嘲。认真来讲,既然面对的是一个高强度的工作,那么办公场所的舒适性就显得尤为重要。
The total area of 7000 square meters is divided into two major parts: 'street square' and office area. Functions except office area are shared in the 'street' that carries main needs of transportation and public activities.
总共7000平方米的面积被划分为两大部分:"街道广场"与办公空间。所有办公以外的需求共享在"街道"里,它承载了主要交通和公共活动的功能。
reception towards bar table |前台望向吧台
Whether it's moving from working table to conference room, bar table, or dining area, transiting of these different behaviors will be done through the 'street'. Walk along and all the way one could pass through the reception, discussion area, multifunction hall, 'library', and meeting area.
无论是从办公桌前挪移到会议室,还是水吧,或者餐区──这些不同行为之间的转换,都需经由"街道"完成。沿街而行,一路可以经过前台、洽谈区、餐区/多功能区、"图书馆"、会议区等多个区域。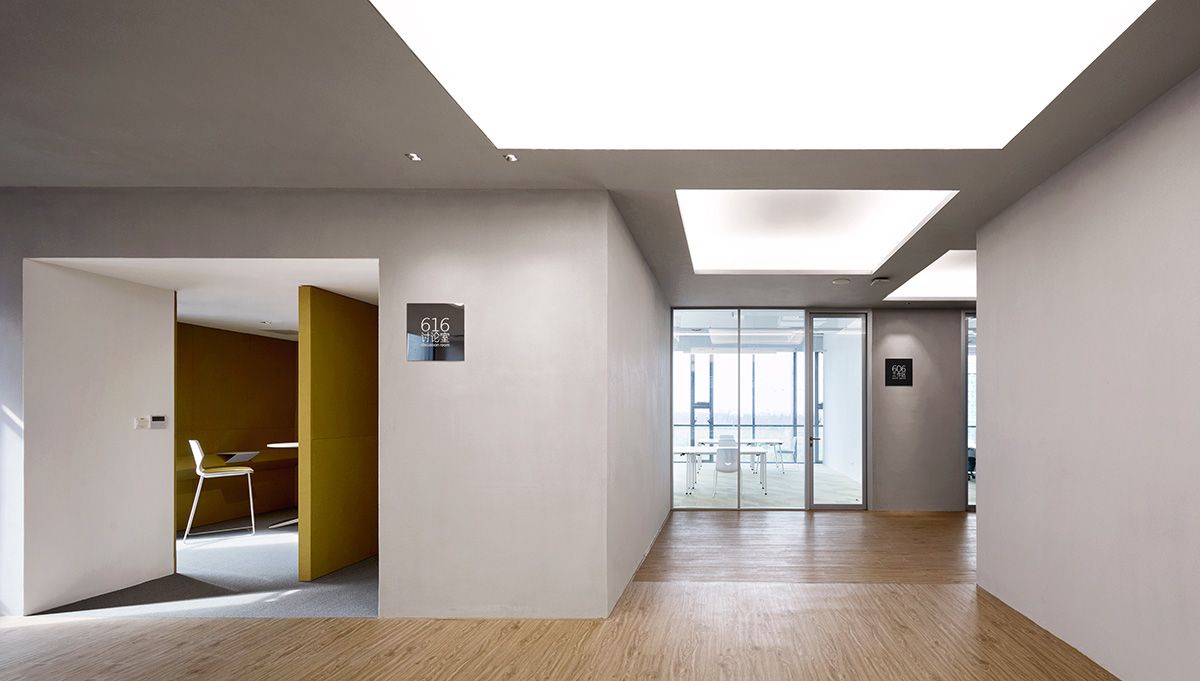 Seminar Room|小型讨论室
Reception is the first place getting in touch with the R&D center, feel like stepping into a coffee shop, it is also a cozy place for the engineers to take a break and enjoy coffee.
前台──进入研发中心大门,就像来到了一间咖啡馆,这里既作为接触到研发中心的第一地点,同时也是让工程师们稍作休息、喝杯咖啡的地方。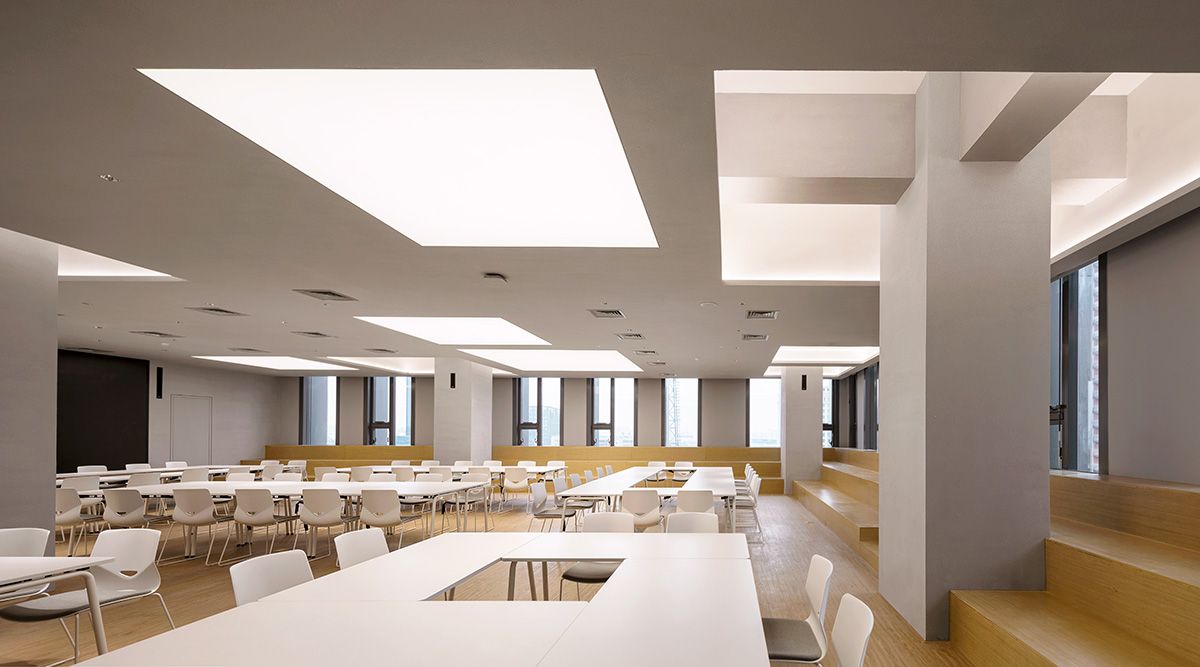 multifunction hall|集会议、培训、餐饮、路演、阅读、休憩一体的多功能区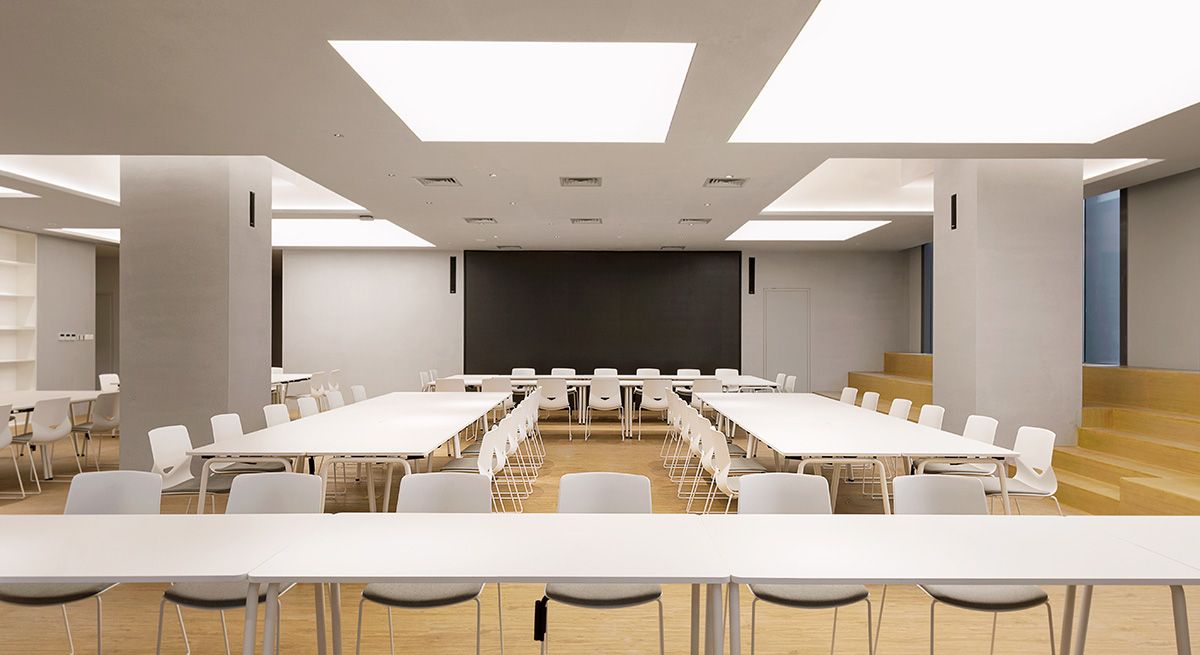 multifunction hall|多功能区
The design of multifunction hall fits for dinning, information session, even company party, exactly functions like a square. People could sit around a table or stand and talk freely, and besides, there are square steps to experience.
多功能区──用餐、小型分享会等多种功能叠加在同一个场地上,形成"广场"的概念。在这里,人们既可以围坐一桌,也可以自由站立交谈,还有"广场台阶区域"为多样化体验提供可能。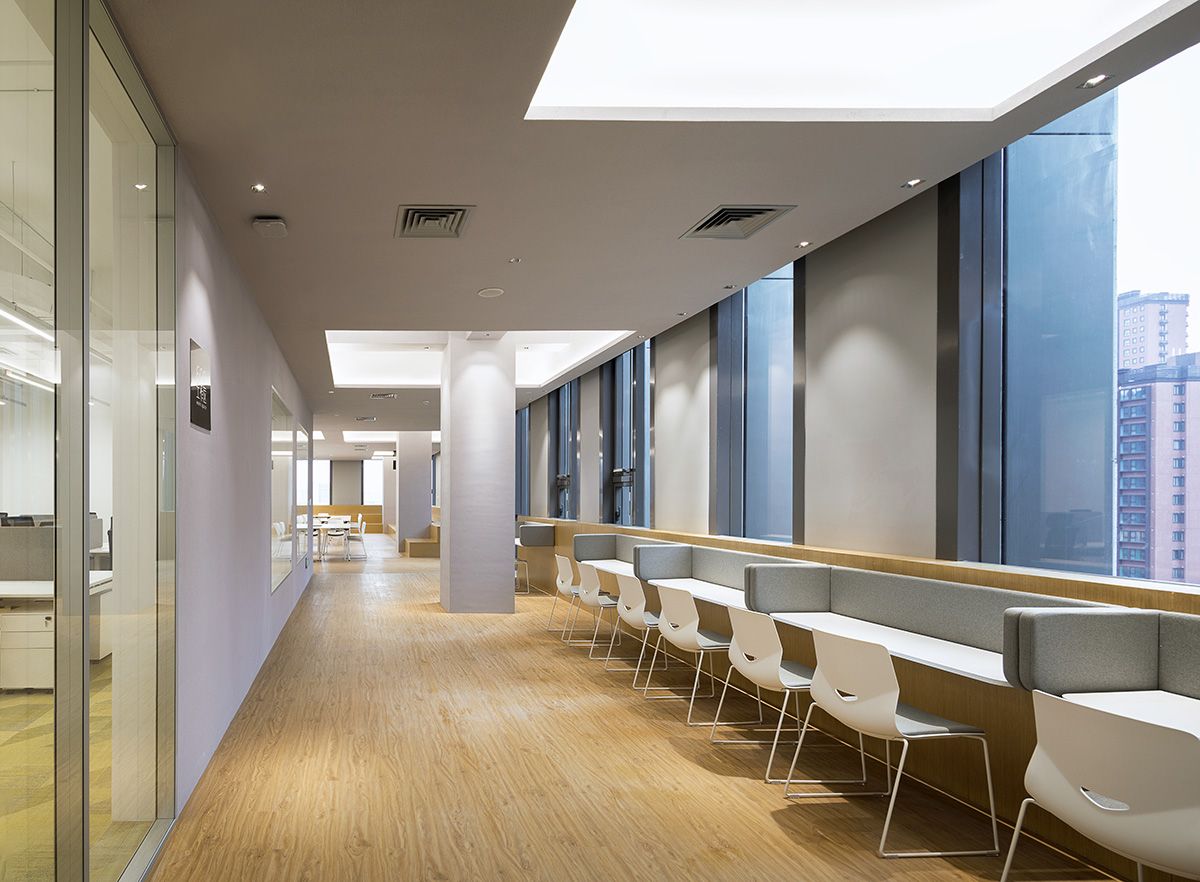 discussion area beside window |窗边开放洽谈区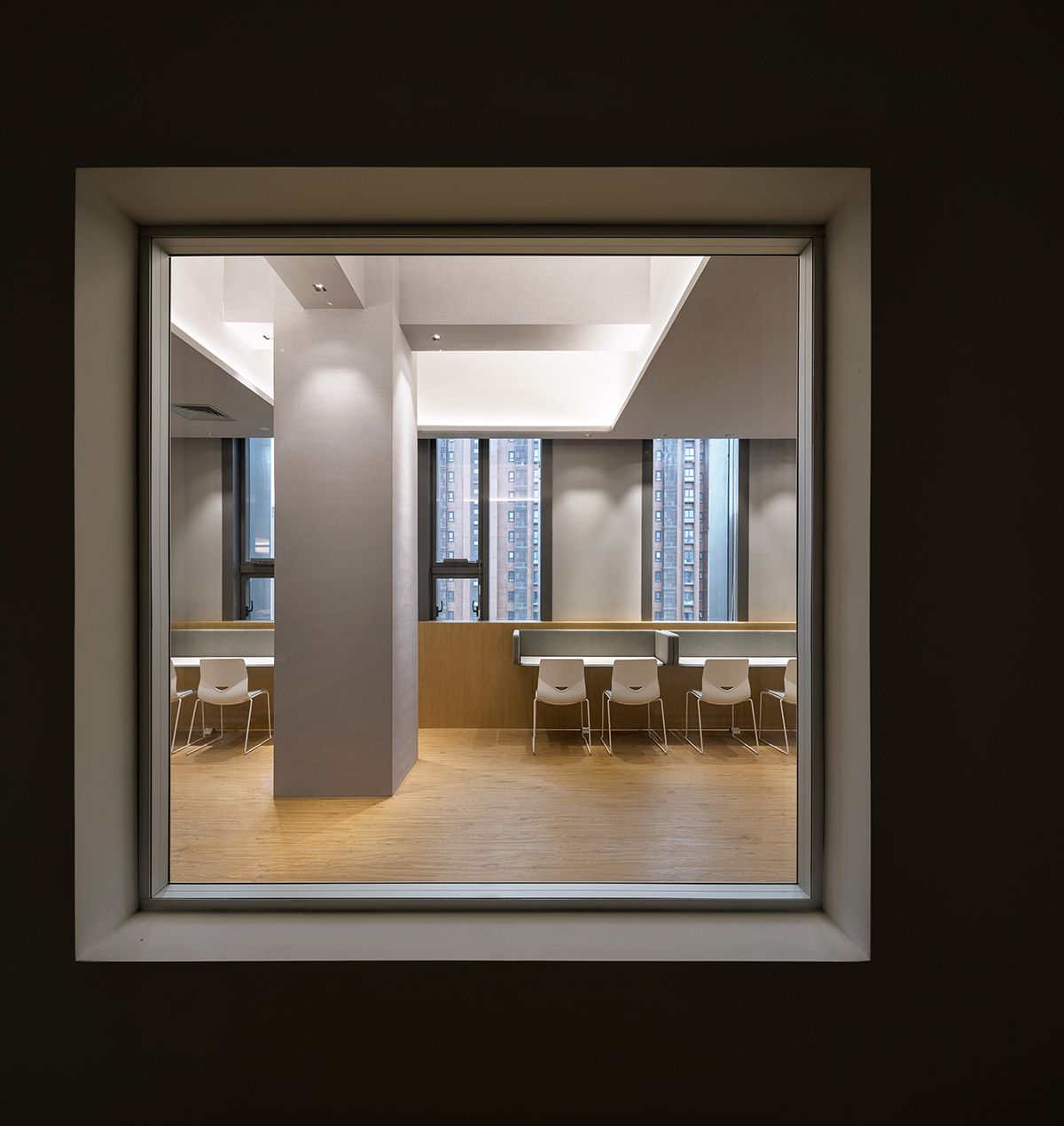 workspace towards window|工作区望向窗边
scale of 'inner street'|"内街"的尺度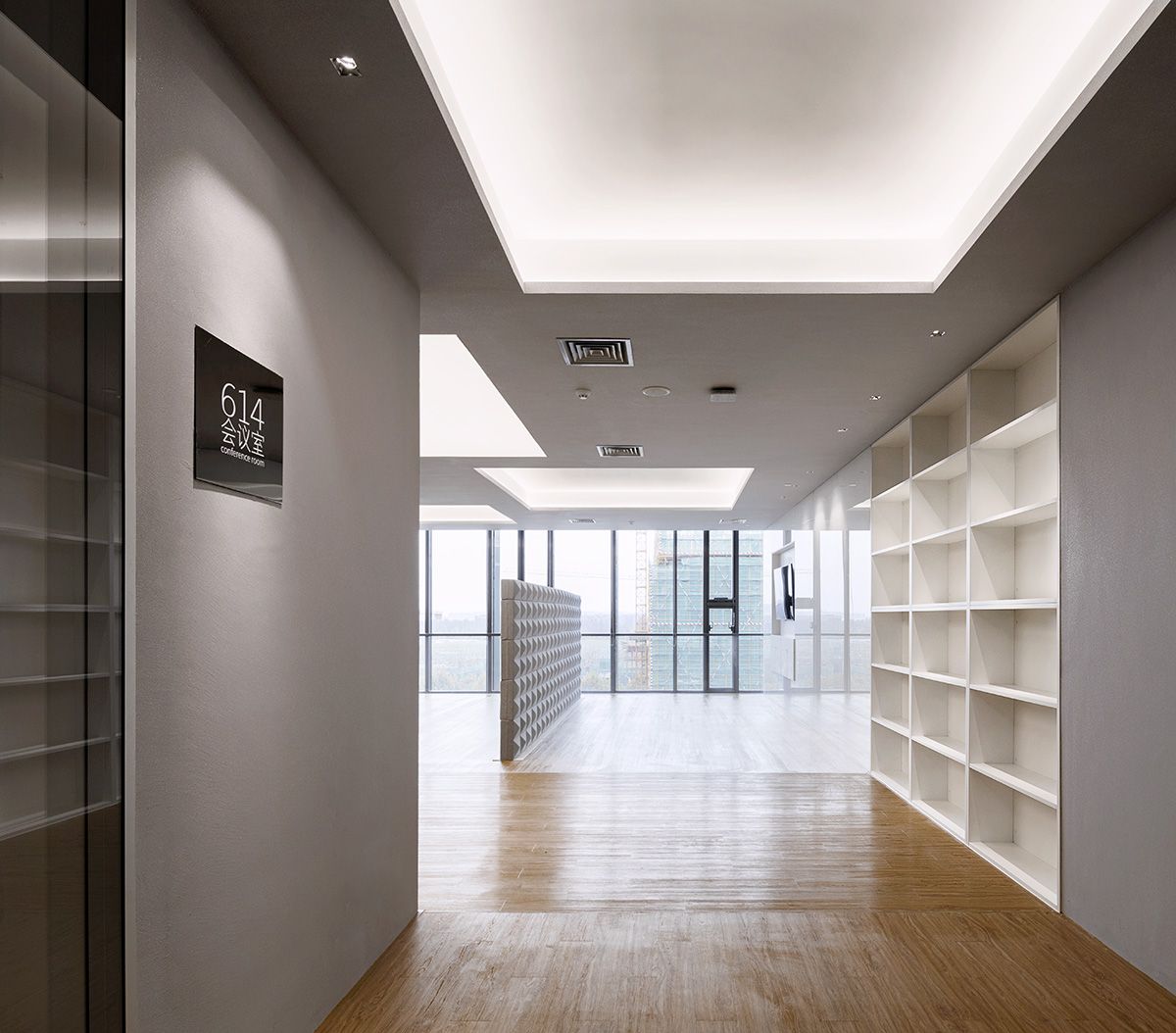 stand-up meeting area|站立式会议区
What's more, the white panels are designed as billboards, these areas provides proper atmosphere for road show and different types of club event. 'Library' beside the window is more private and quiet compare to the square. It is perfect place to read some lines, change some air after long hours in front of computer, even mind coding etc.
更多区域──白板墙就像是马路上的广告牌,路演等大、小型活动亦可在此举办。相对于"广场"而言,窗边的"图书馆"更为私密和宁静。读读书,或者在办公桌前坐腻了到这里换换空气,顺便敲几行代码,都属于它的使用范围。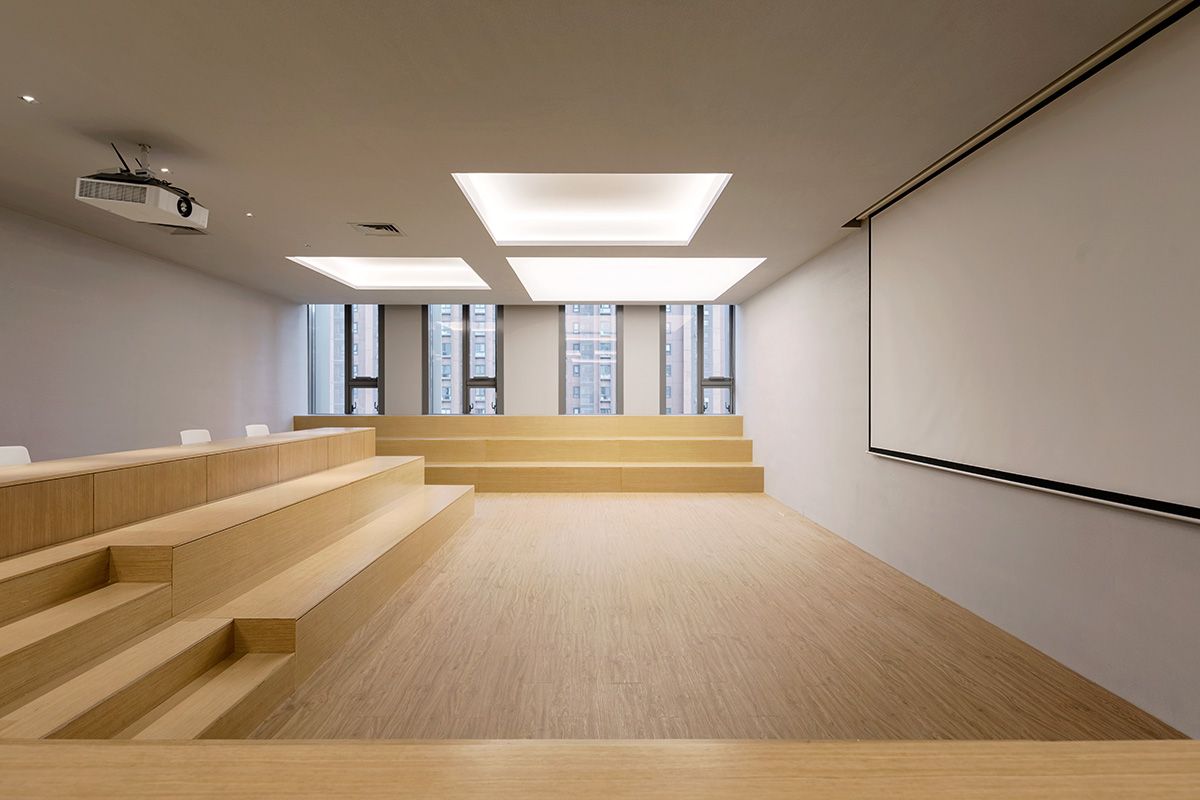 free meeting area|自由会议区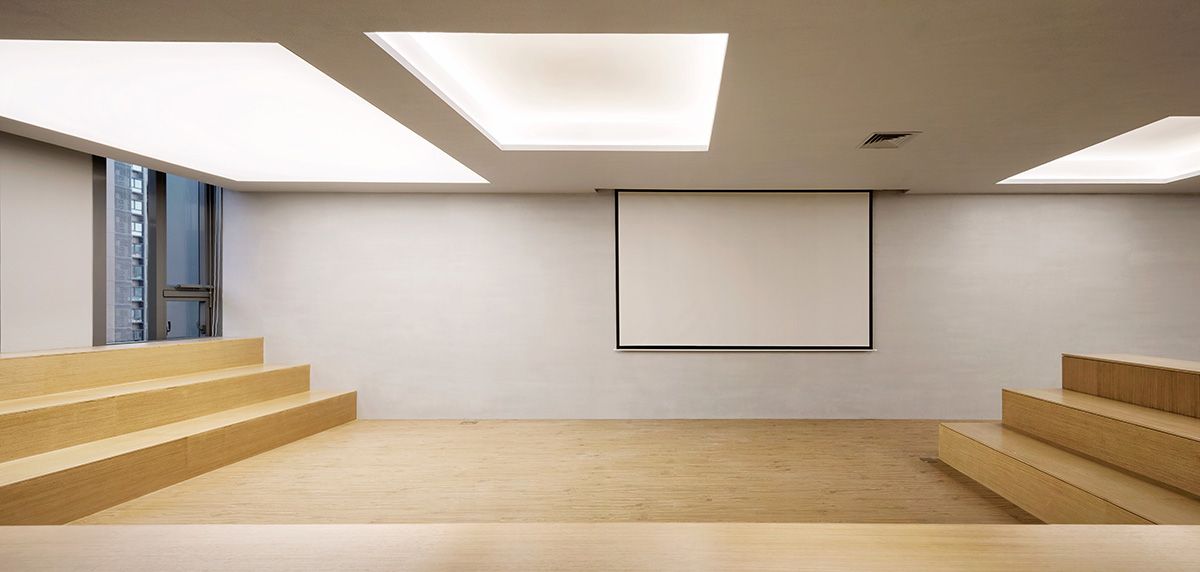 free meeting area|自由会议区
The 250 meters long 'street' is coated with sandstone spray which is often used outdoors. View is quite beautiful marching along the wood floored 'street', feeling the constant change of light and the dappled shadow.
这条长250米左右的"街道",采用了砂岩喷涂这种通常为室外的做法,沿着"街道"在木地板上行进时,能感受到光线不断变化,体会光影斑驳。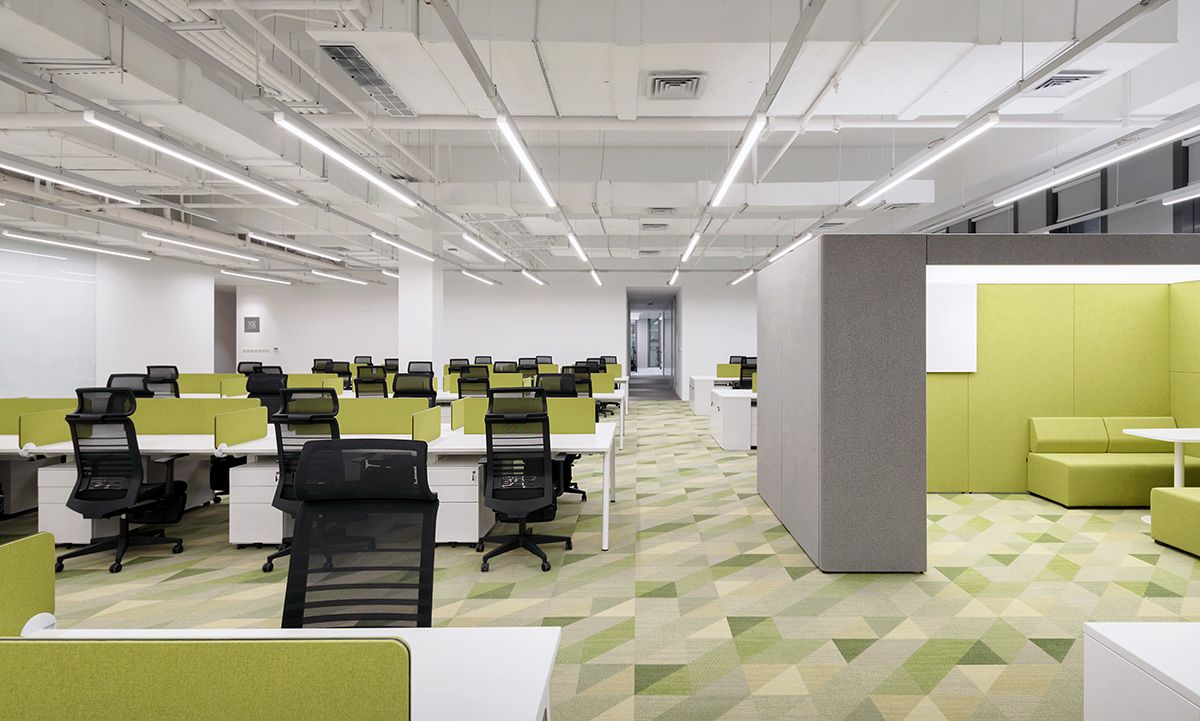 work station for conversation inside workspace |工作区中的多功能工作站,对谈交流
refreshment area|茶歇区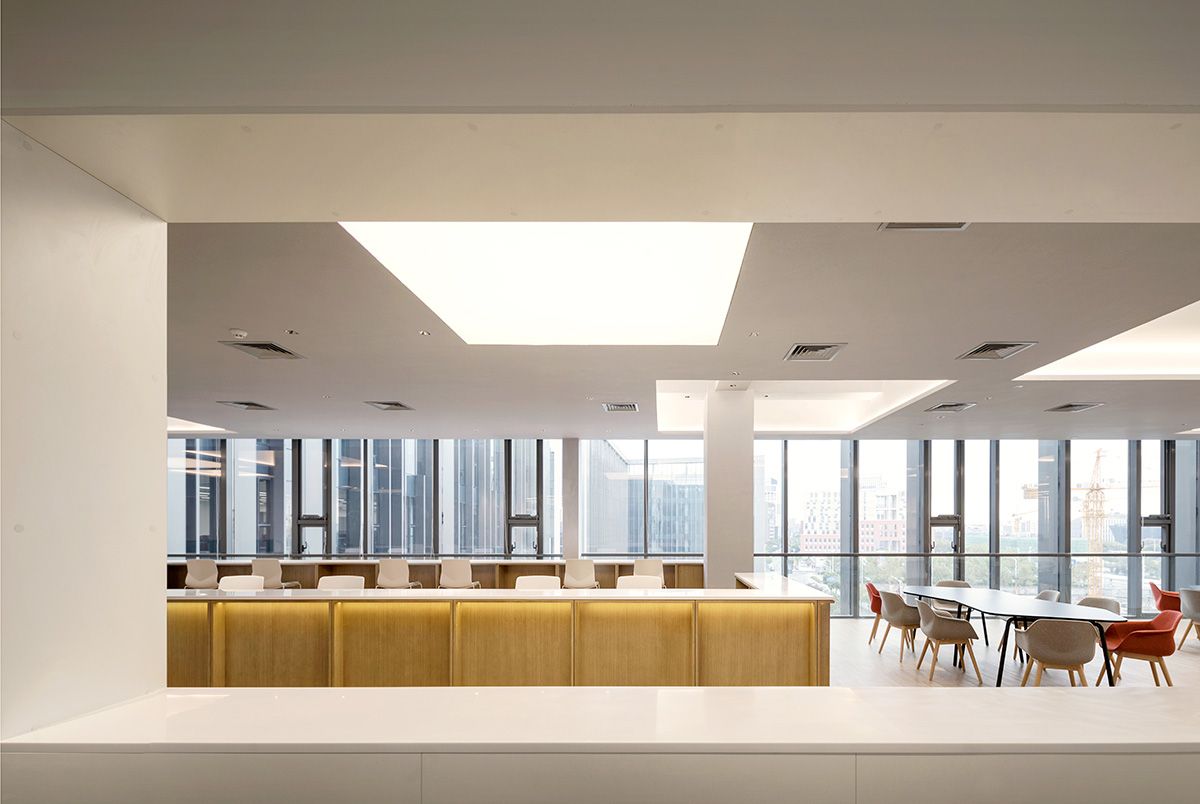 from bar towards refreshment area|吧台望向茶歇区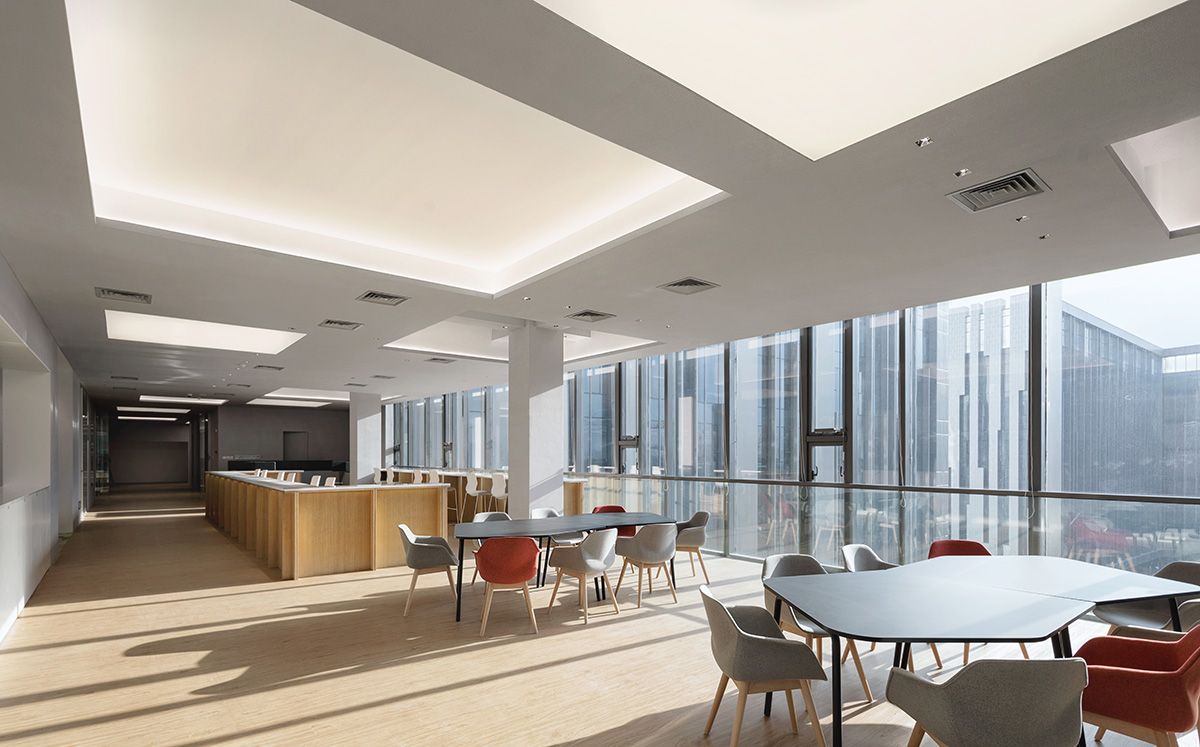 refreshment area towards elevate lobby |茶歇区望向电梯厅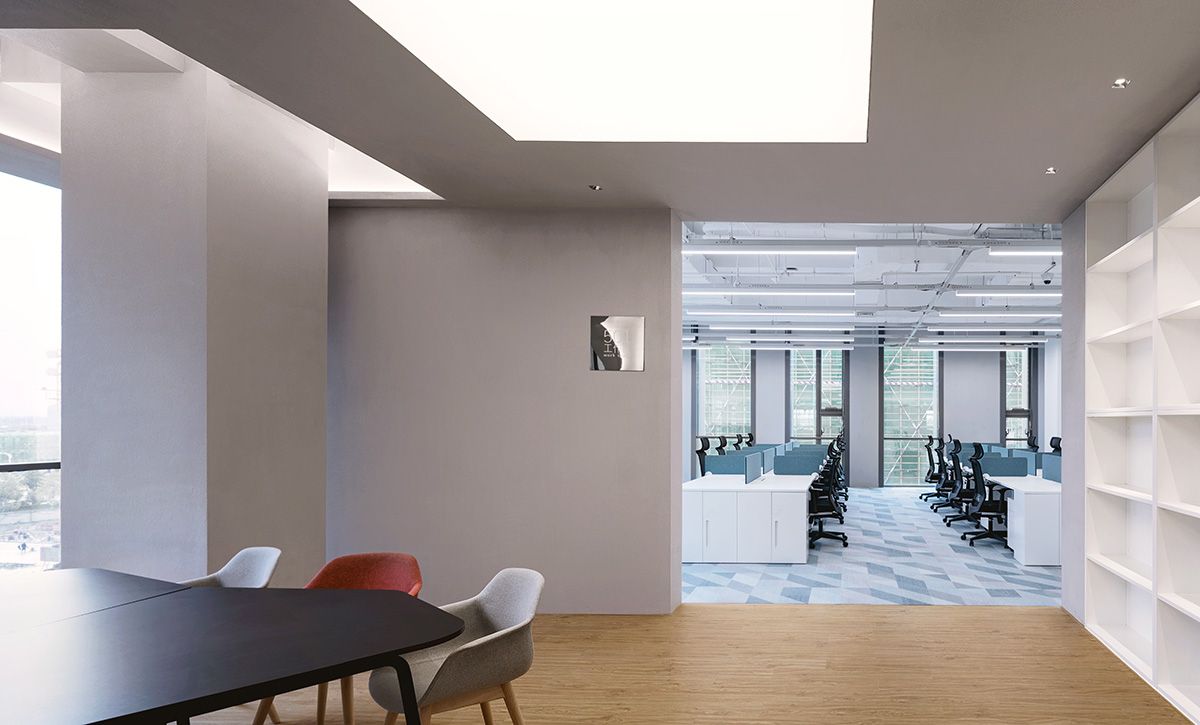 refreshment area towards workspace|茶歇区通往工作区
Office area are tightly distributed around the 'street'. Specially designed modular furniture are shared by the same department and while standoff other functional departments.
办公空间紧凑分布在"街道"周围。特别设计的组合式家具被放置进来,既作为同组人员共享的场所,又区隔开不同部门。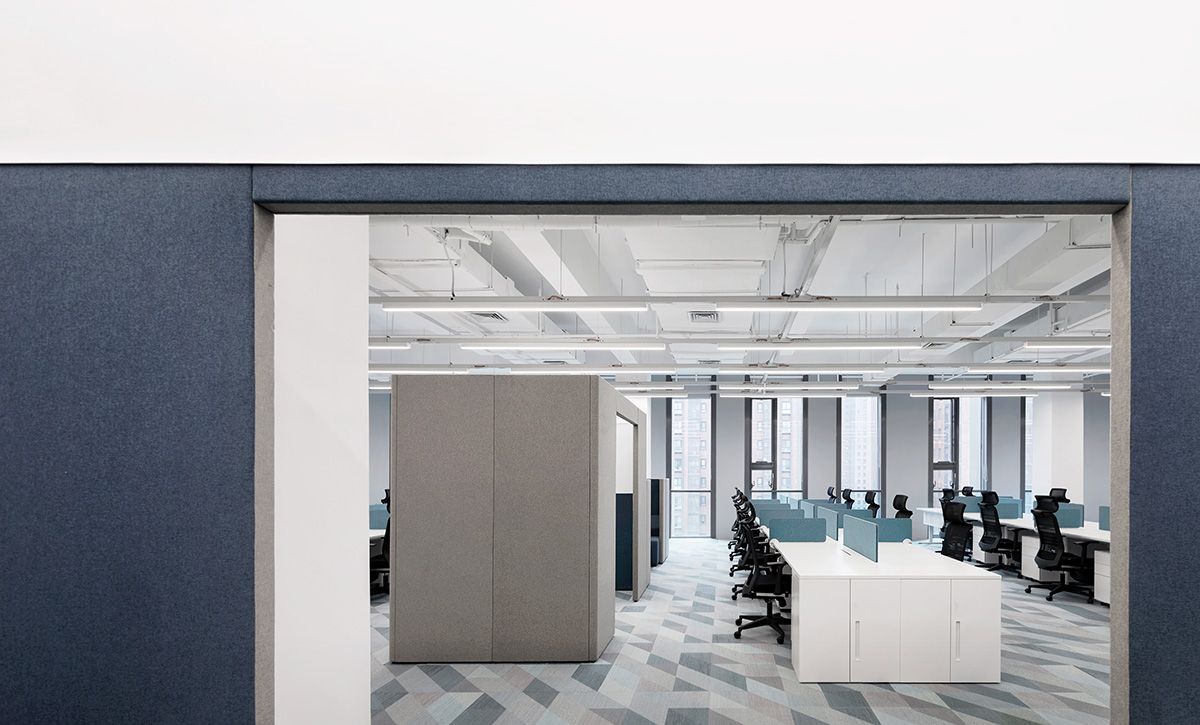 workspace|工作区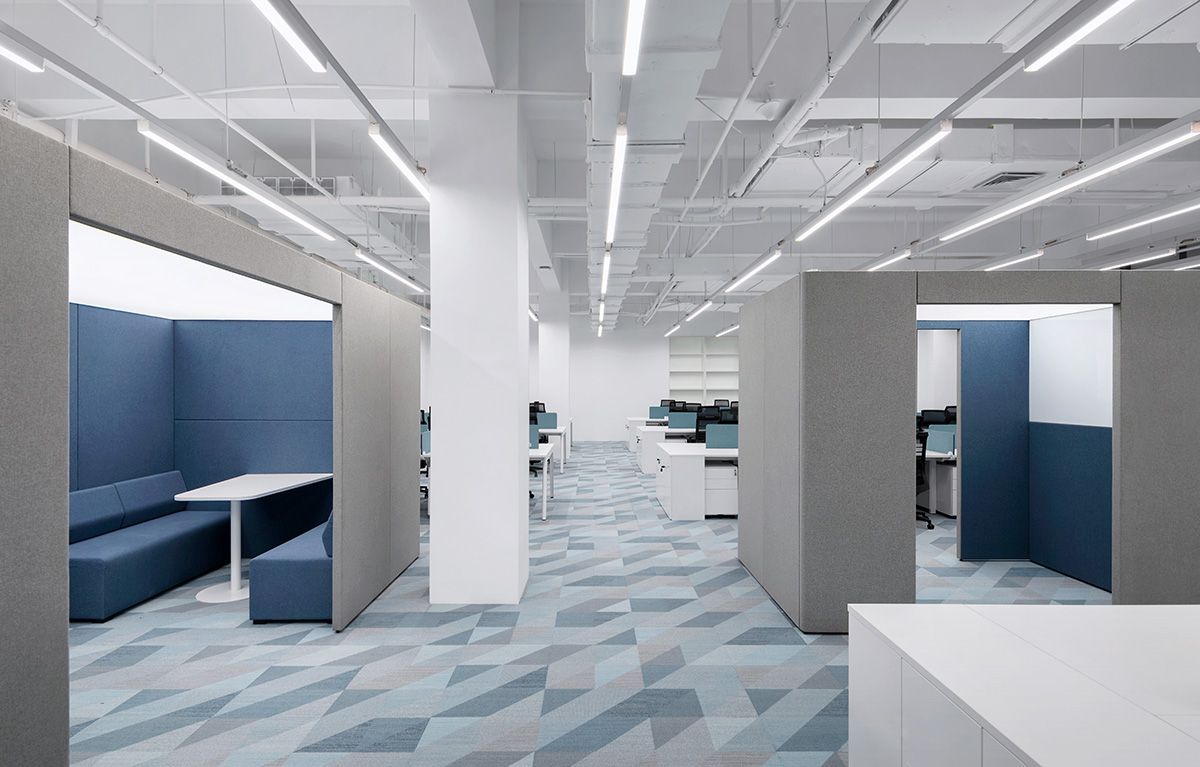 work station for stand-up meeting and seminar inside workspace|工作区中的多功能工作站,站会及小型讨论
According to detailed functions, these series of furniture composes work stations as stand-up meetings, fast-meeting, seminar etc. Each department chooses their preferred working styles and actually combined one 'little house' for themselves. This is also one of the design parts which involves co-working with the six departments of R&D center.
以细分功能为标准,这一系列家具包括开会、讨论、喝茶等多个单元,每个部门选择他们想要使用的方式,最终组成属于自己部门的一个"小房子",这也是研发中心的6个部门参与到设计中的一个环节。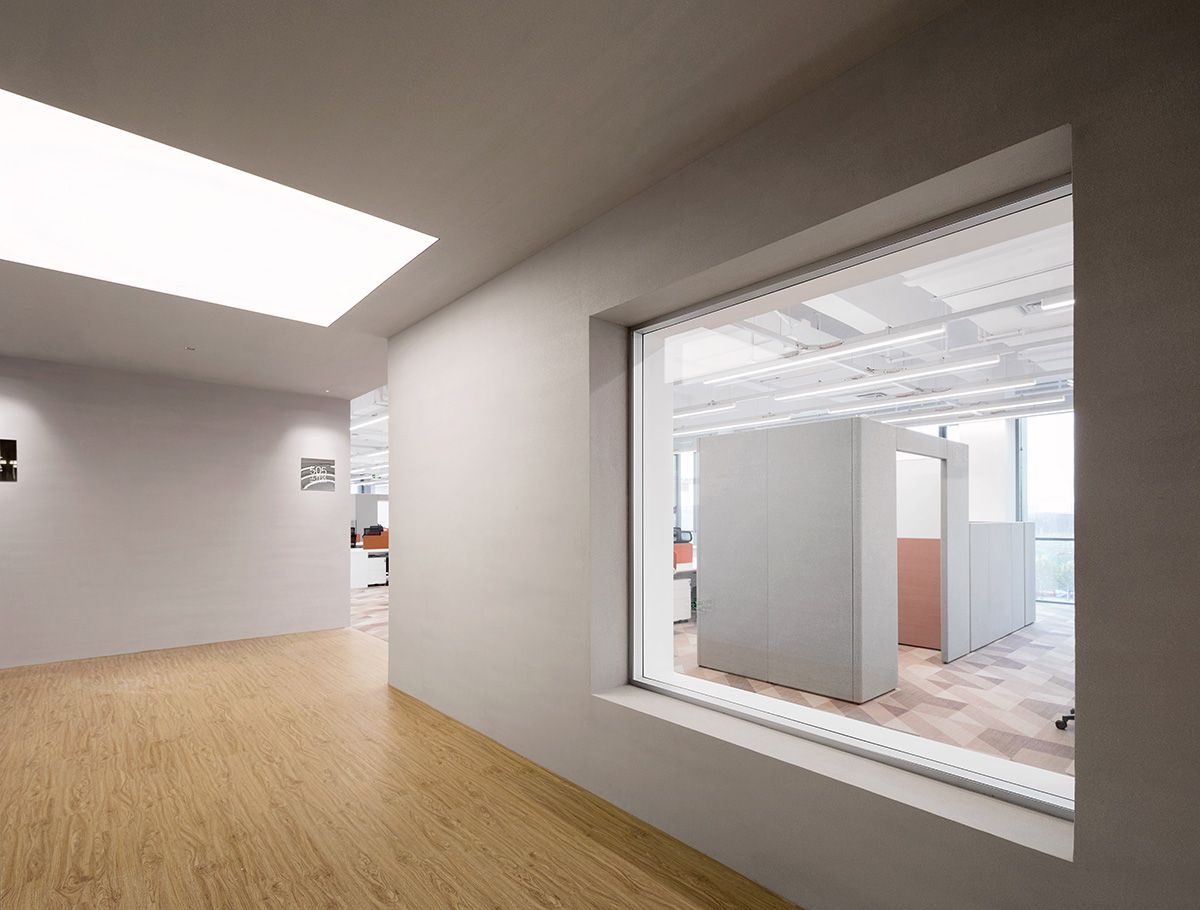 towards workspace|通往工作区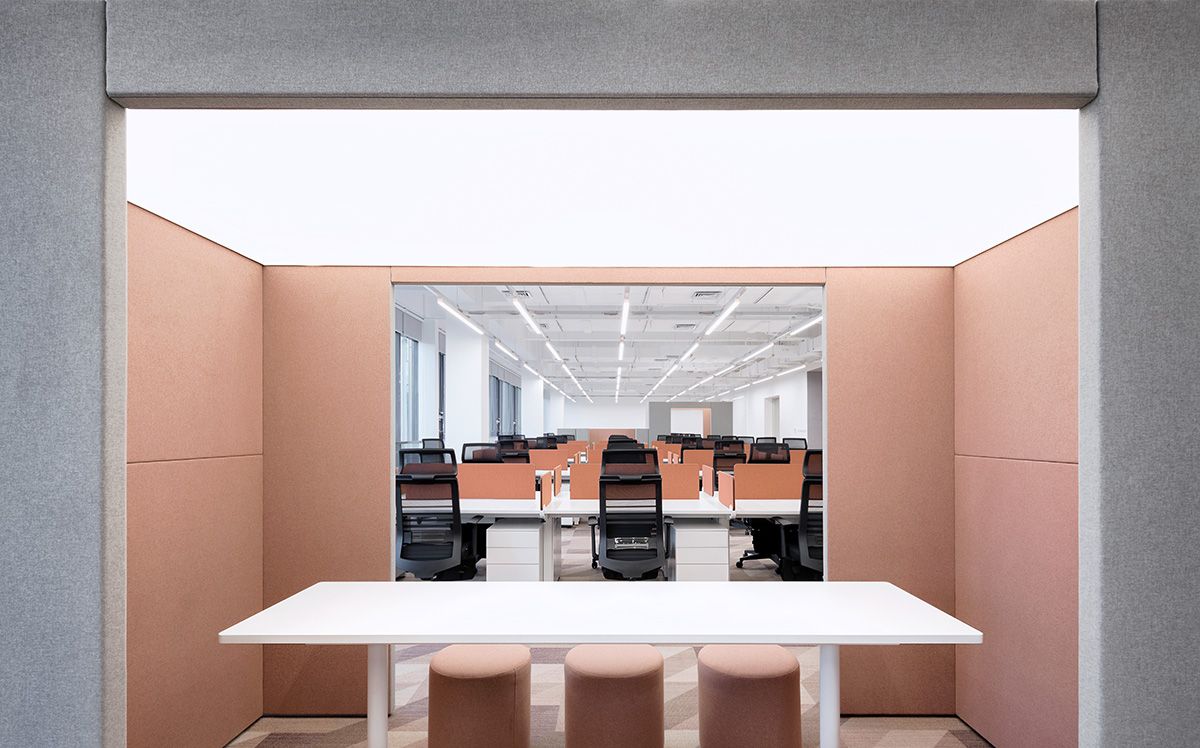 work station for fast-meeting inside workspace |工作区中的多功能工作站,快速会议
The R&D center acts as a small community with little part for the office area, the 'street' comes up with all the rest. The terminal users anticipated to accomplish the project together with the designers.
整个研发中心就像一个小型社区,办公只占据其中一小部分,"街道"满足其余所有需求。在这个项目里,使用的一方亦参与进来,与设计者共同完成。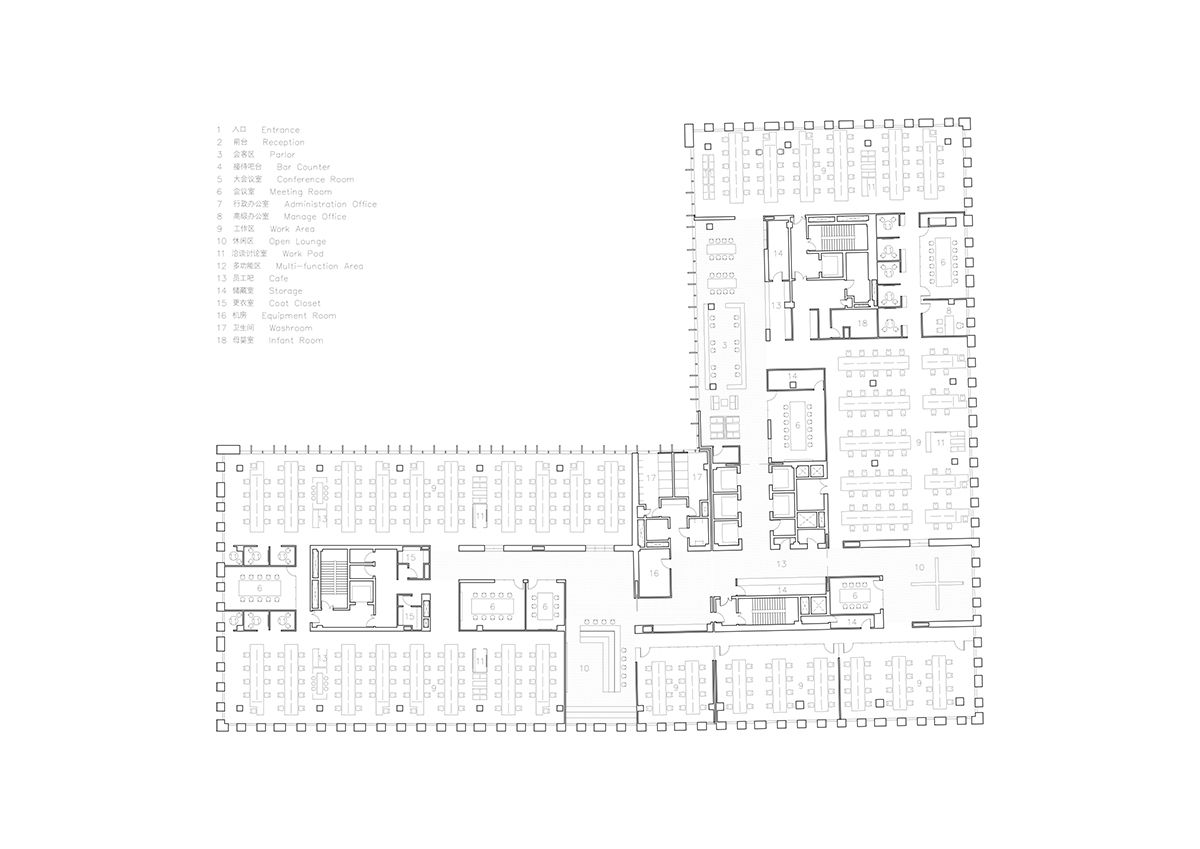 Plan|平面图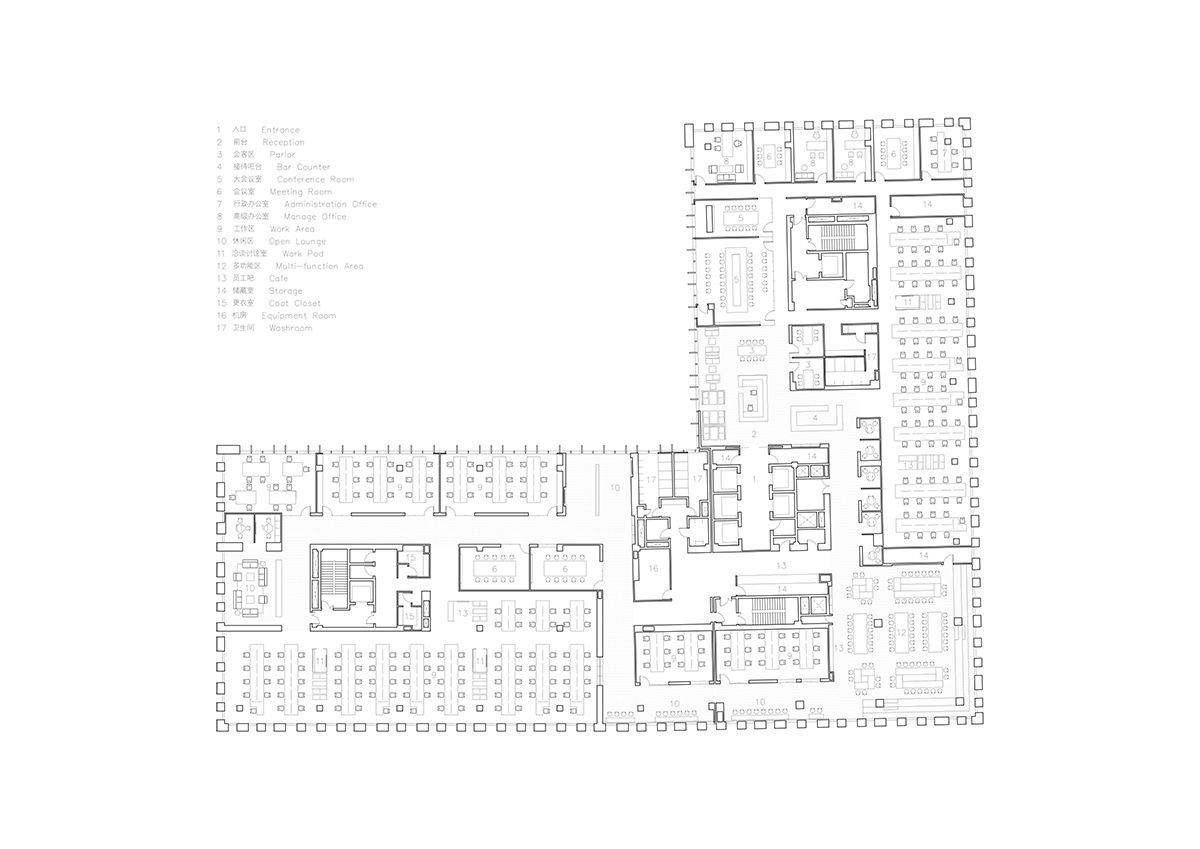 Plan|平面图