Maoling Villa is one of the best historic buildings in Shanghai. Without maintenance over decades, the building built in 1941 is now in disrepair and its internal structure is severely aged. By figuring out the life-way of the new family, different privacy levels are progressively planned from big family living room to each family member's own space. A new living model is placed into the old building, thus the building's interior and exterior façade are changed simultaneously.
茂龄别墅为上海市优秀历史保护建筑。历经岁月沉淀,这栋建于1941年的建筑物年久失修,内部结构严重老化。通过梳理即将入住的新家庭的生活,规划出不同私密等级的空间:从大家庭生活空间到每个成员各自独立的空间,层层递进。新的生活模型被放置到老建筑的驱壳中,建筑的内立面与外立面便同时发生了变化。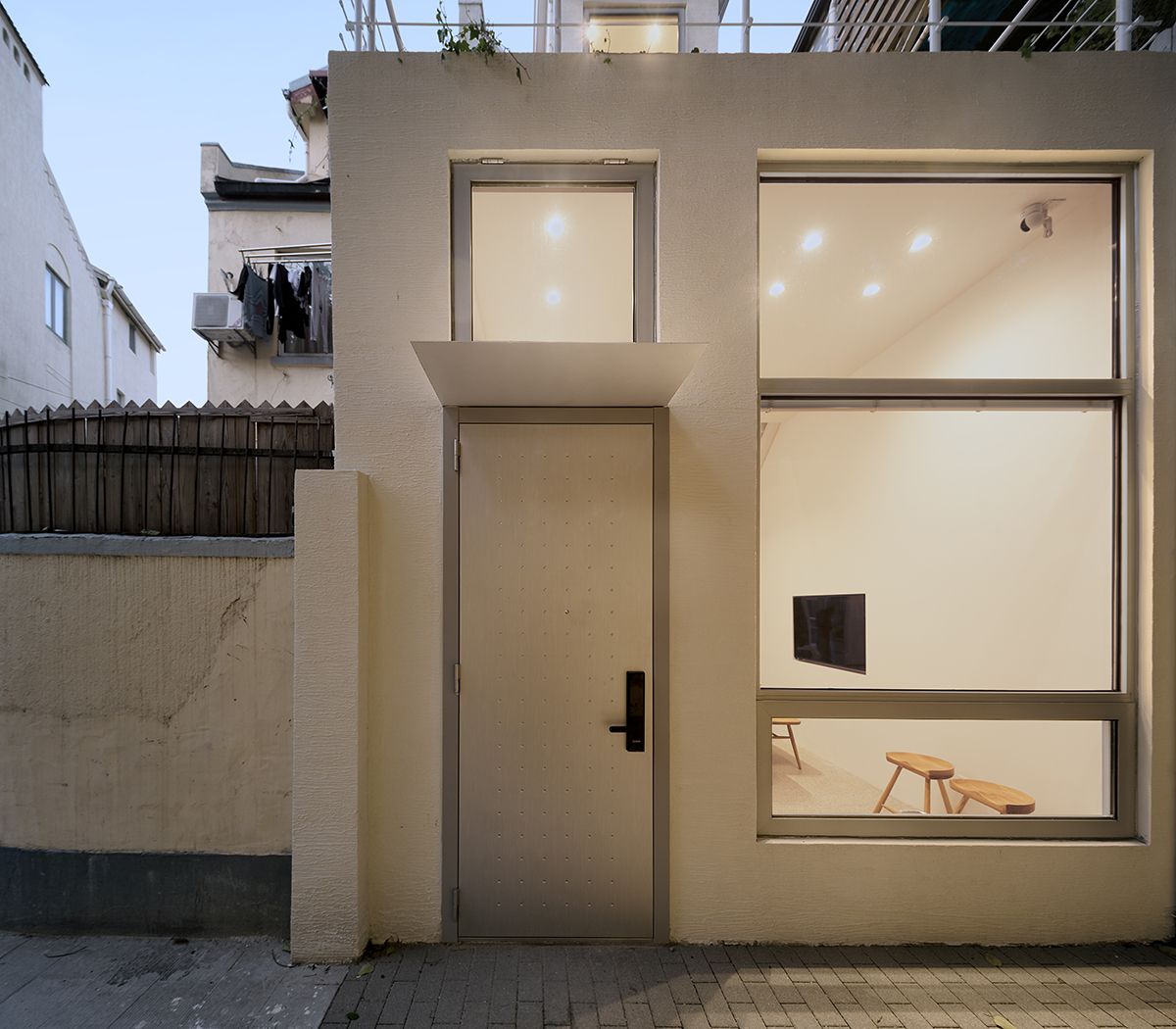 entrance | 入口
For those who was born and lives in Shanghai, old houses and typical Shanghai lane life style must be quite acquainted to them. In terms of the structure, the experience of 'climbing stairs' in childhood is carried over to the next generation that kids enjoy the space so much busy climbing up and down.
对于在上海土生土长的人来说,老房子是他们所熟悉的,那里有典型的上海里弄生态和老房生活方式。从建筑结构而言,那种童年经历中对"爬楼梯"的日常状态保持着的习惯,在这里延续到了下一代身上,孩子们拥有了发挥"爬上爬下"天性的空间。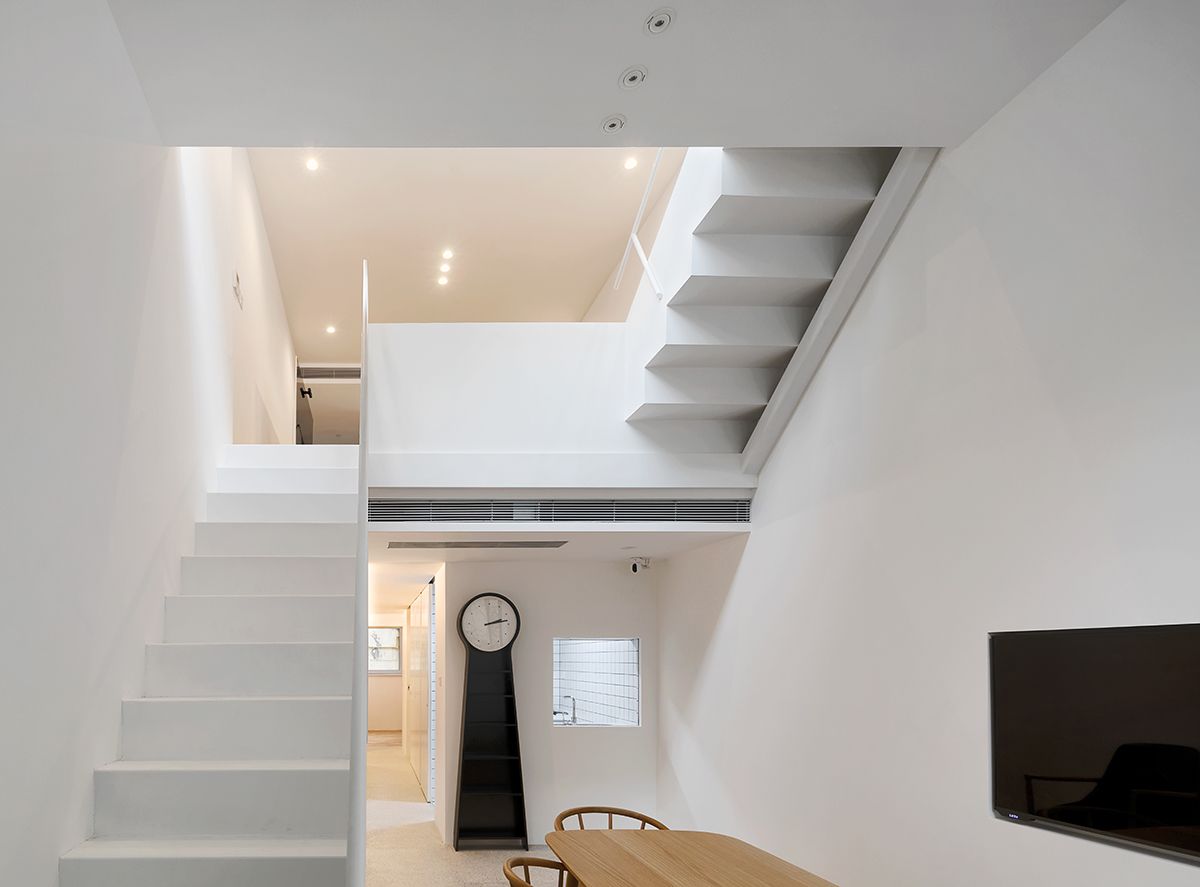 step into the villa | 进入的空间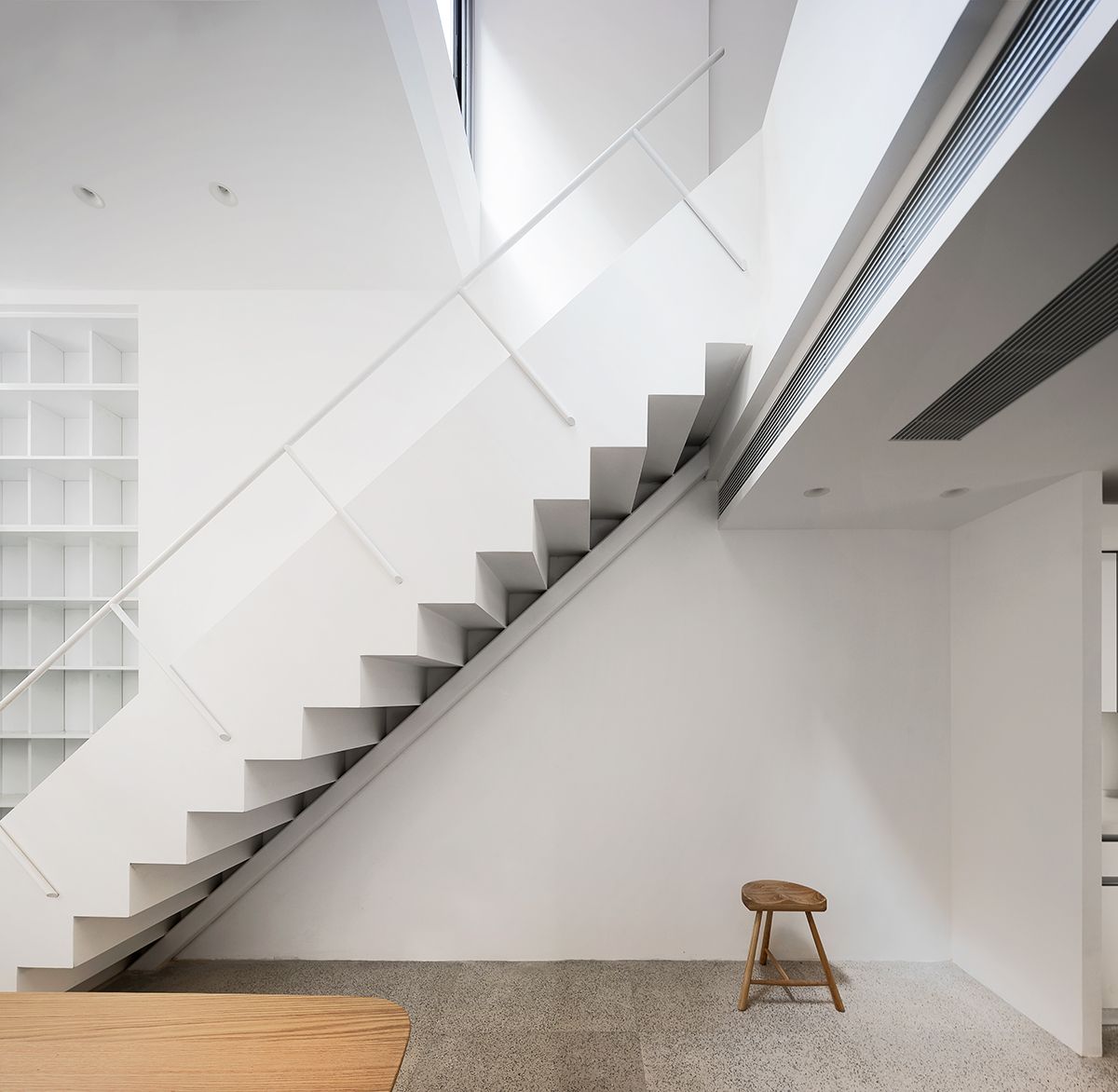 space under the stair, 1F | 一层楼梯下方空间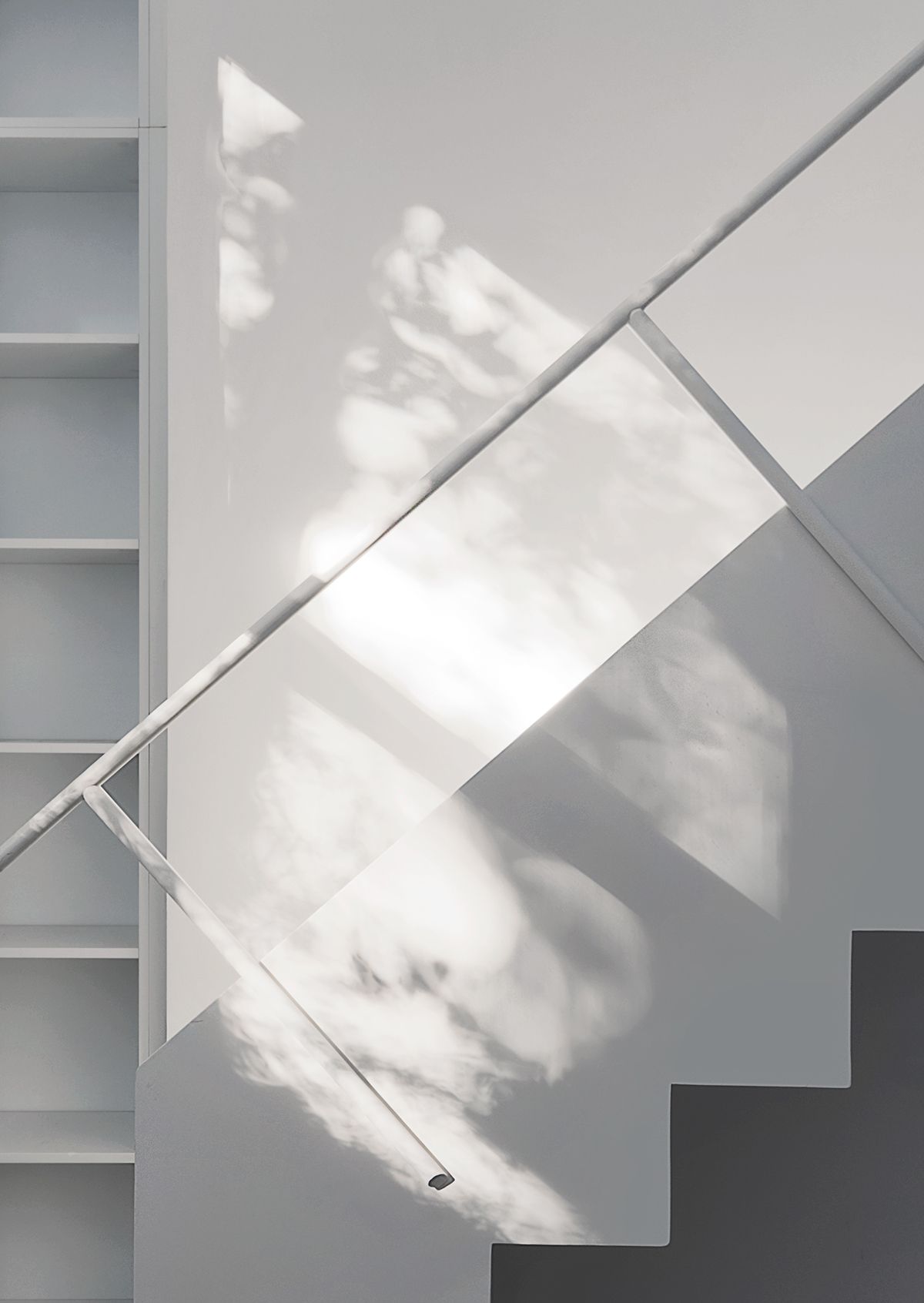 stair and handrail | 楼梯细部
The stairs are not only the passage connecting different floors, but also an area for kids to explore. Moreover, the stair sections are set up scattered which is quite friendly to the elder.
楼梯在这里既是连接不同楼层的通道,又是小朋友进行探索活动的区域,而且楼梯分段错落设置对年长者比较友好。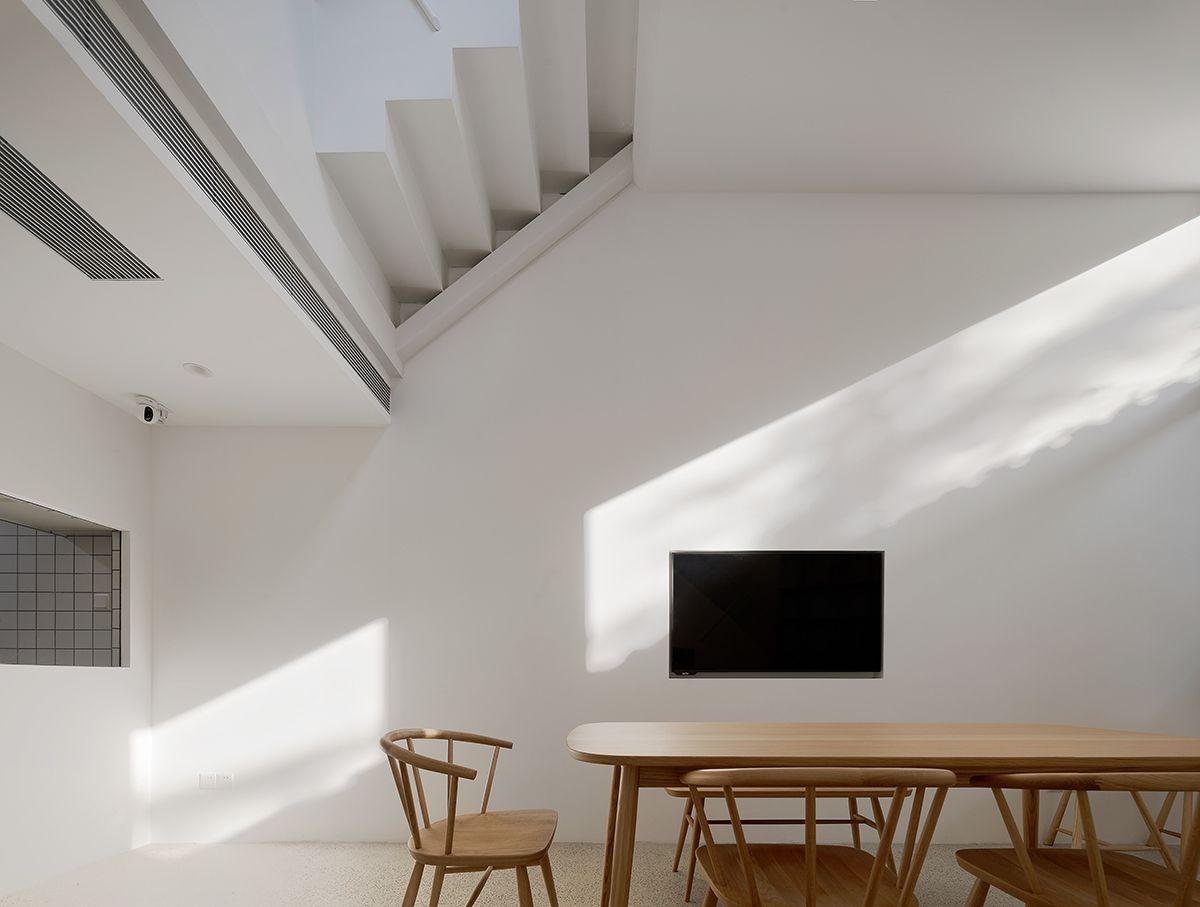 dining area, 1F | 一层用餐区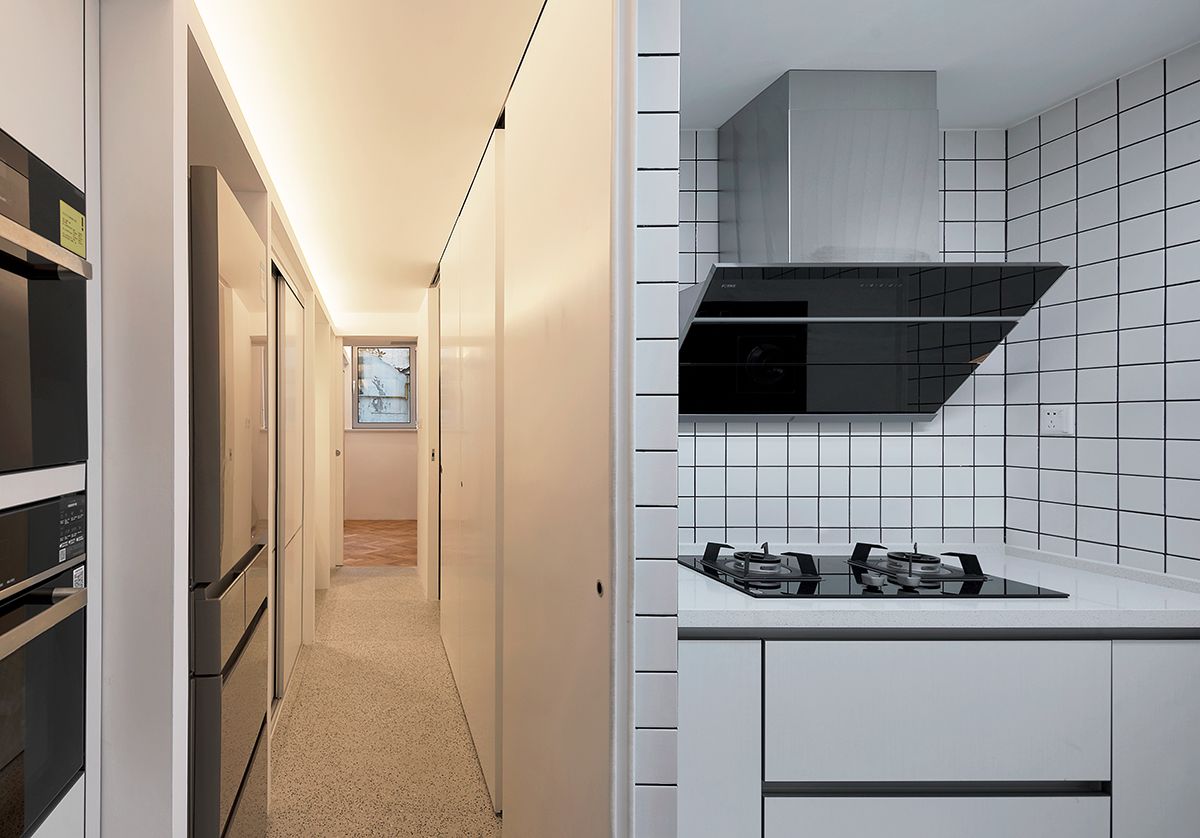 kitchen, laundry, storage and guest room, 1F | 厨房、洗衣房、储物空间及客卧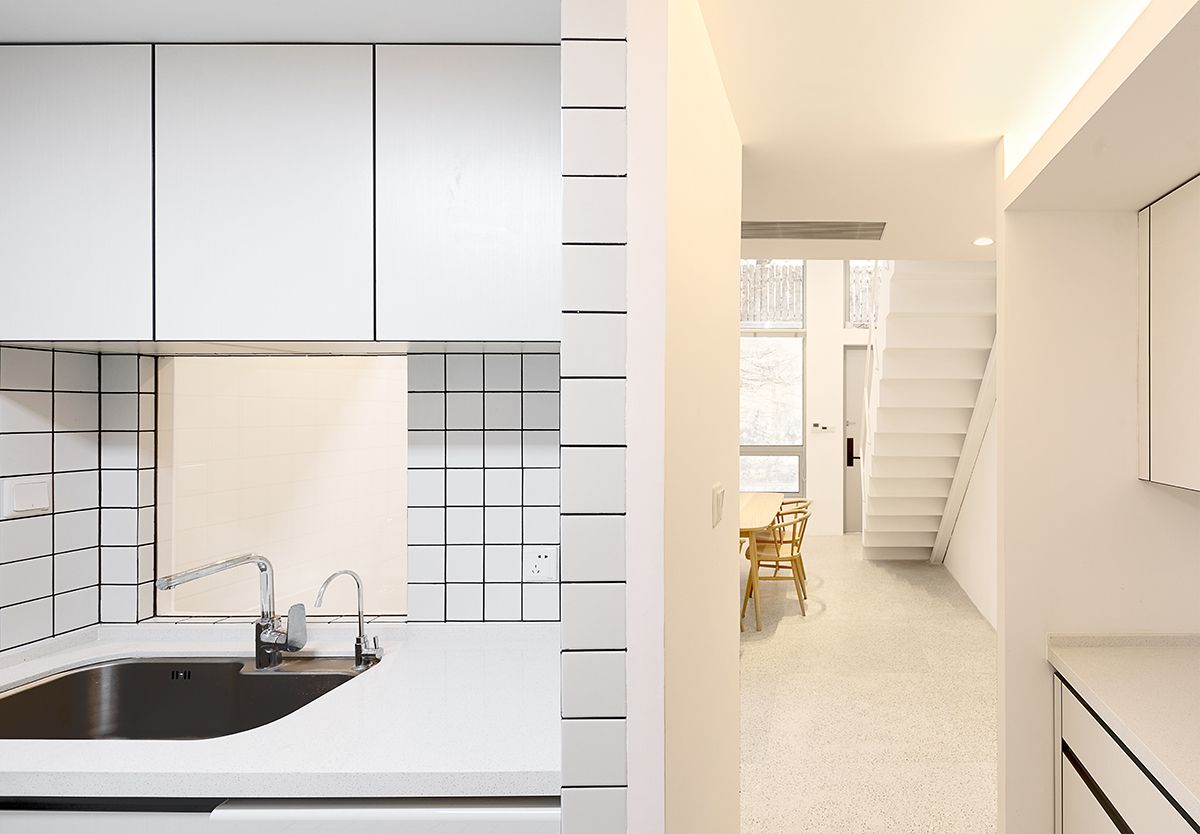 from kitchen to dining area, window for interact, 1F | 厨房望向用餐区,小窗互动
Communication and interaction among three generations of a family take place the most in public space with sufficient illumination such as the dining area on 1st floor, the living room on 2nd floor and the audio-video and game area on 3rd floor. In this way, a warm atmosphere is created in the house even family members are just communicating with each other. The bedroom is sufficient for basic resting and storage functions, and kids' room will be used as study room correspondently.
一家三代人的沟通和互动,更多发生在光照充足的公共空间,分别是一楼用餐区、二楼会客区、三楼影音游戏区,这样在保持相互交流顺畅的同时,使大家庭有一个良好温暖的氛围。卧室满足基本的睡眠和收纳作用,孩子的房间兼作他们的书房。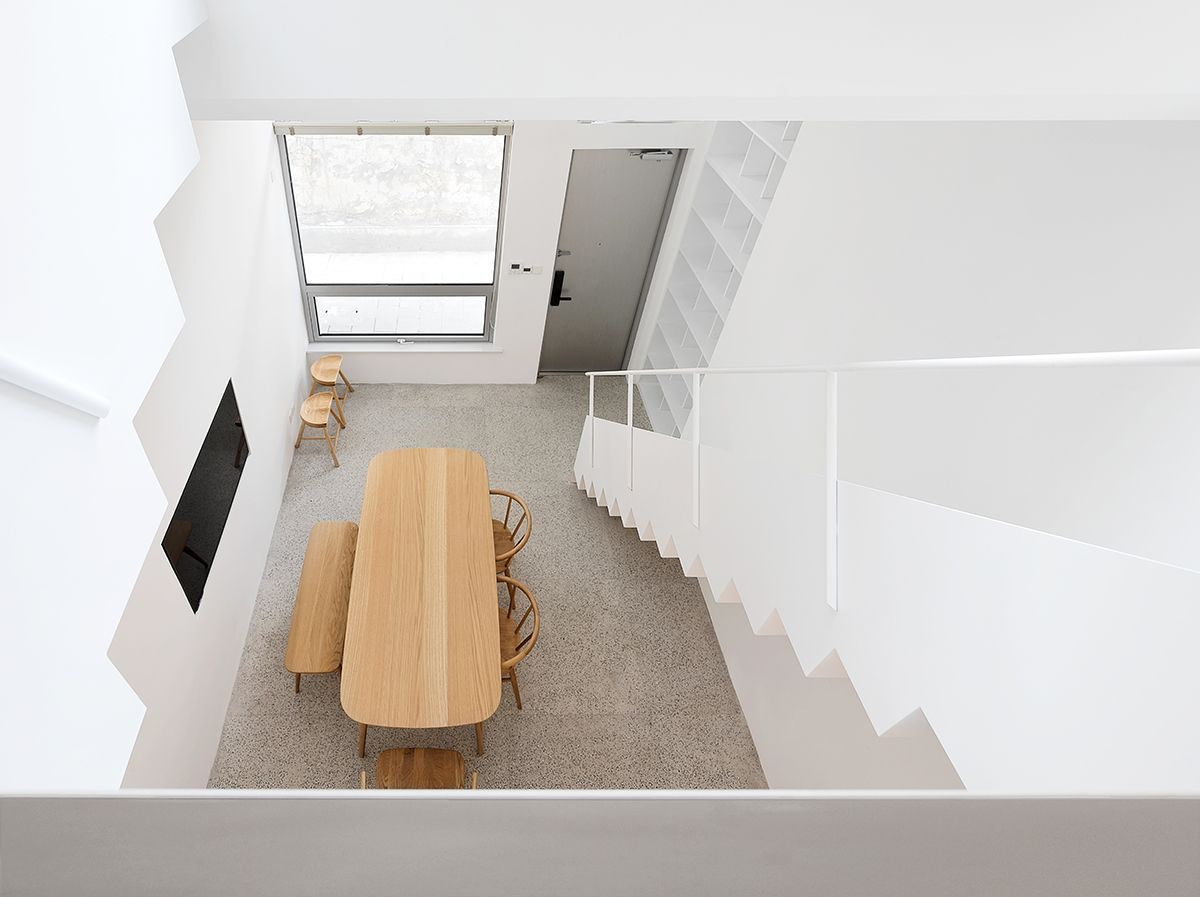 sight from 2F to dining area | 从二层望向用餐区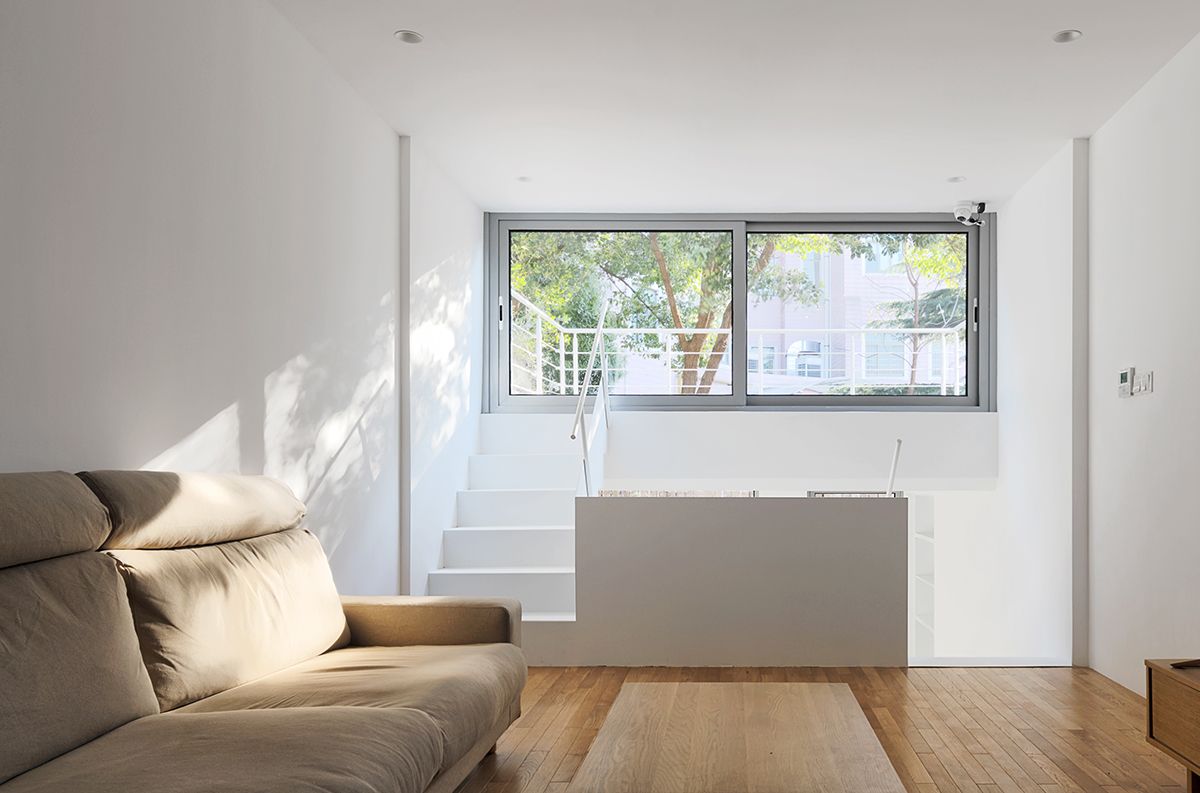 living room, one side to terrace, 2F | 二层会客区,一侧通向露台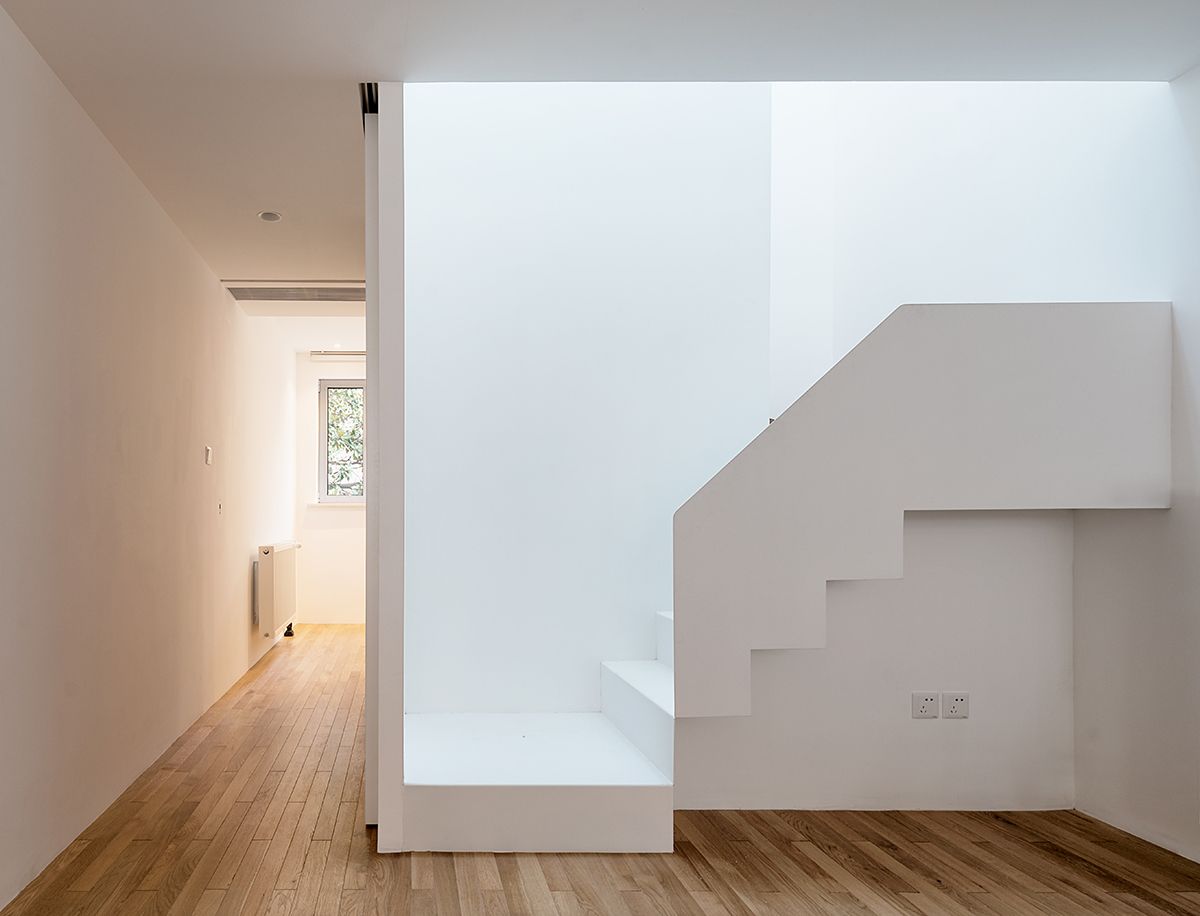 another side to children's rooms , 2F | 另一侧通向儿童房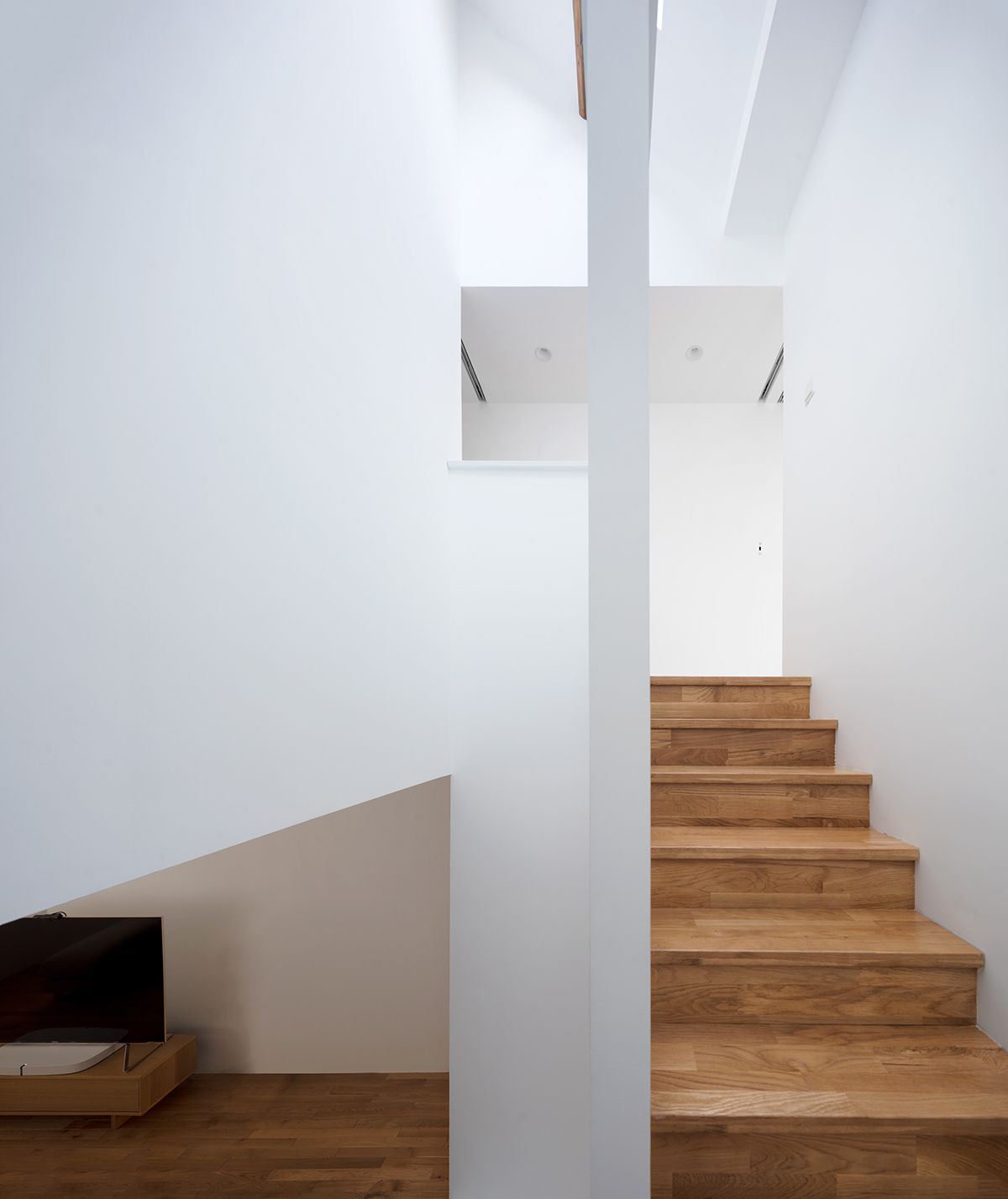 2F towards 3F | 通向三层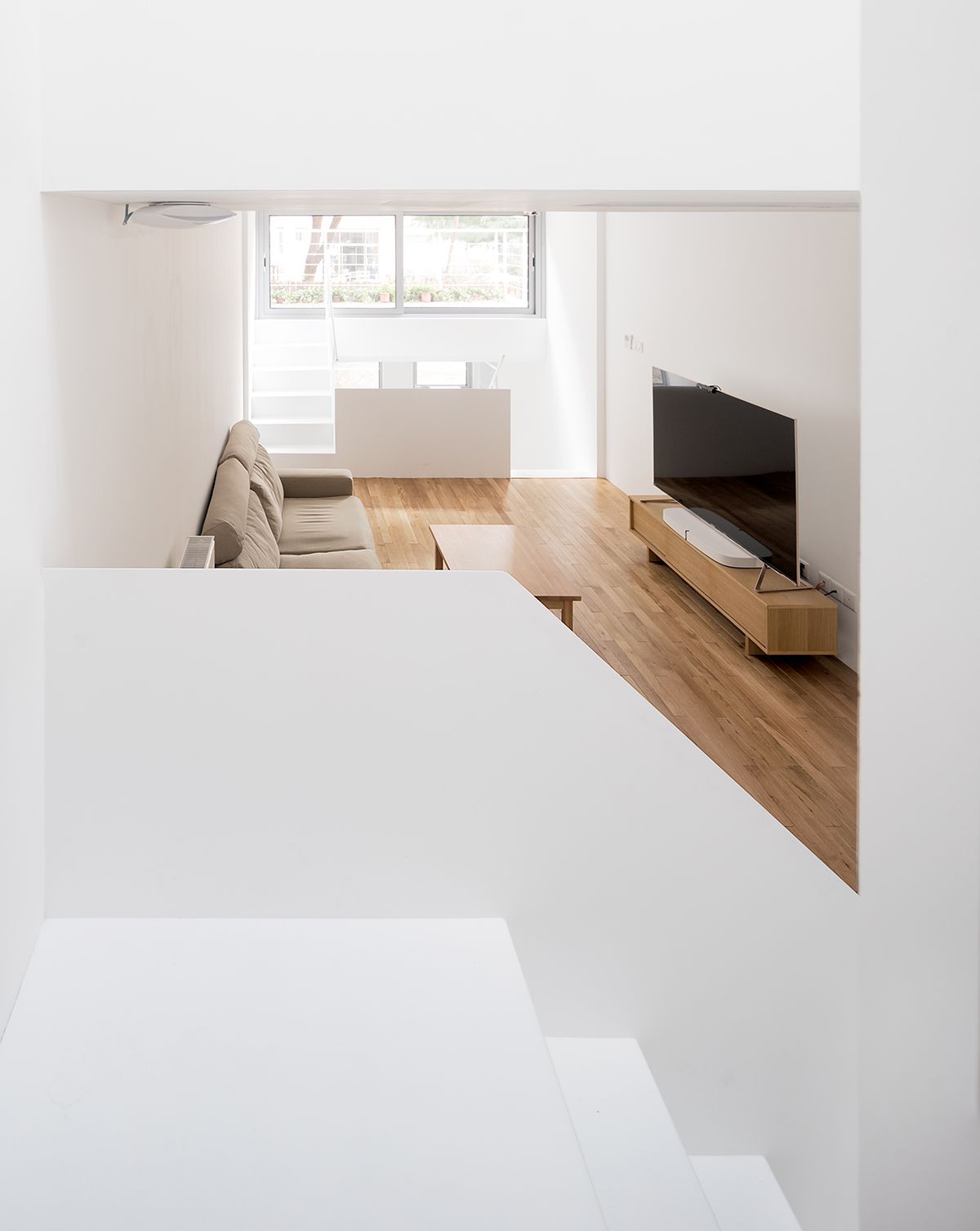 sight from stair hall to living room | 楼梯厅望向二层会客区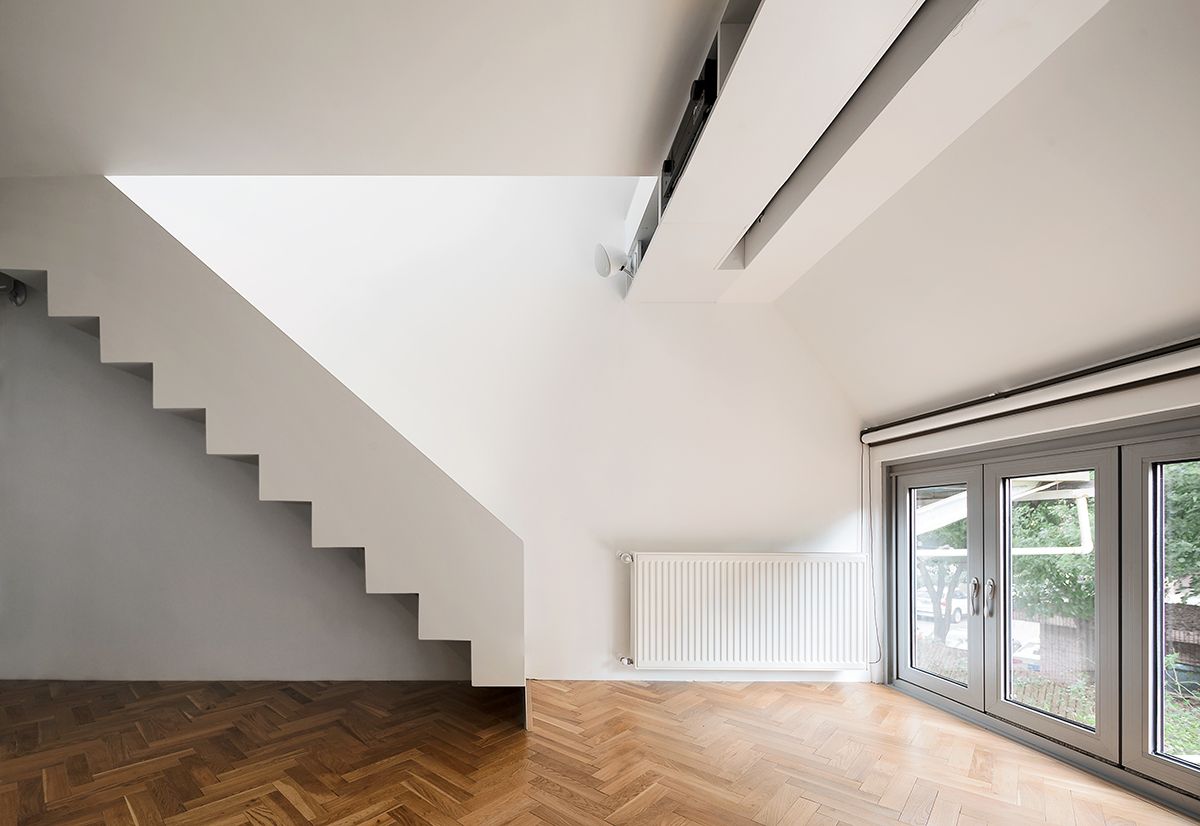 audio-video and game area, 3F | 家庭活动空间与影音游戏区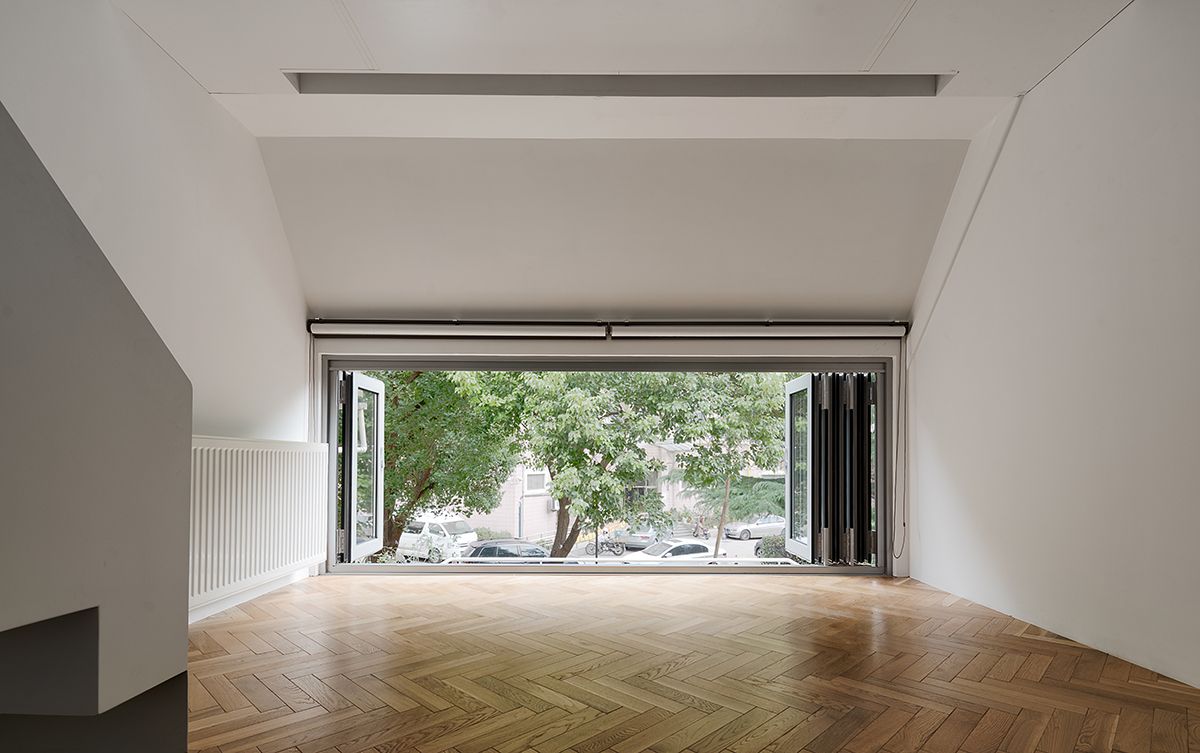 buttonwood outside | 窗外的梧桐树
Besides the public space, the levelled pattern makes a natural and effective partition for each member's personal life. It is also important for everyone to have privacy in a big family.
公共空间之外,分层格局对各自的生活做出天然有效的隔离,也起到很好的保护隐私作用。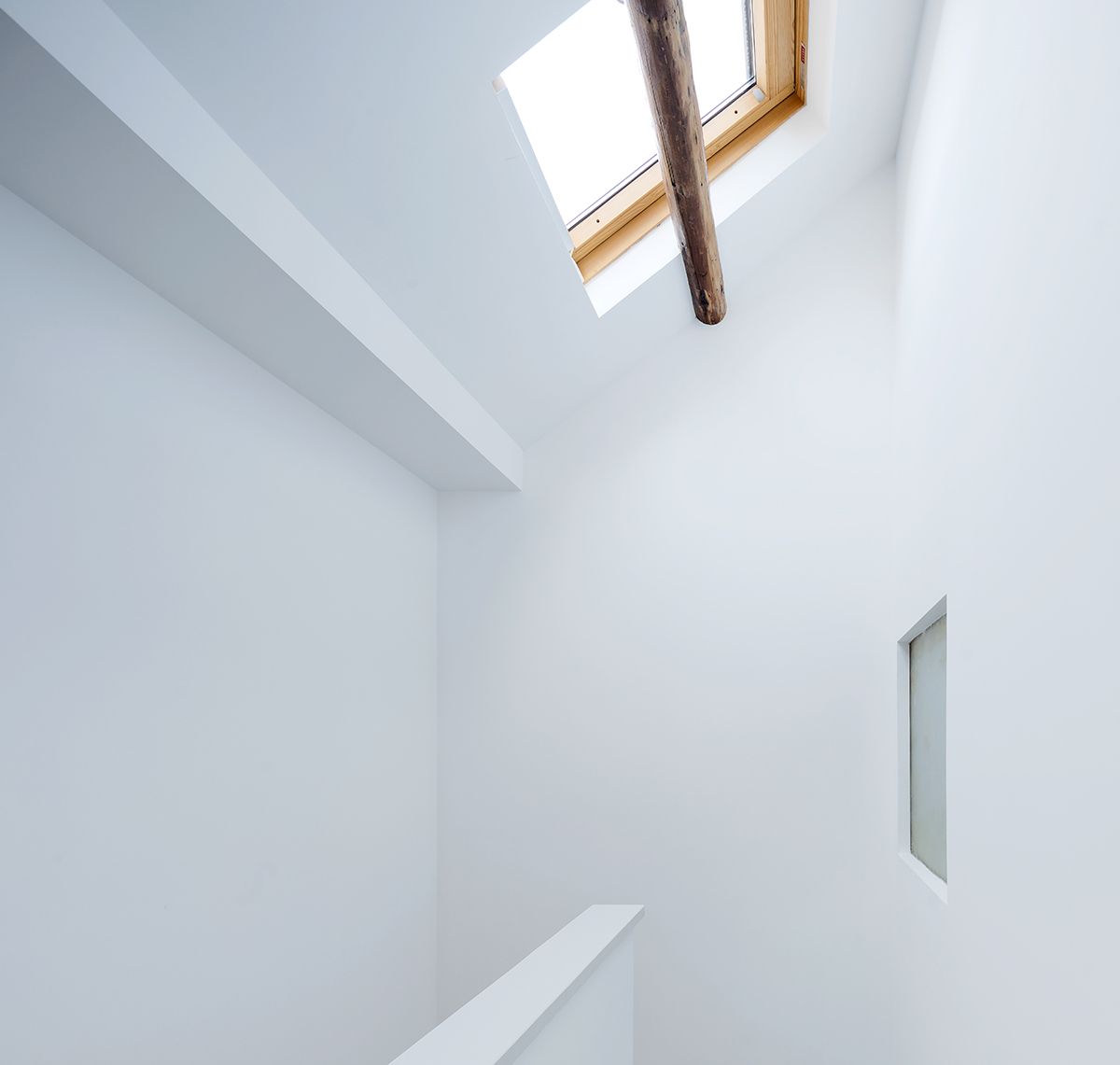 stair hall, sunroof and bathroom window | 楼梯厅,天窗和浴室的窗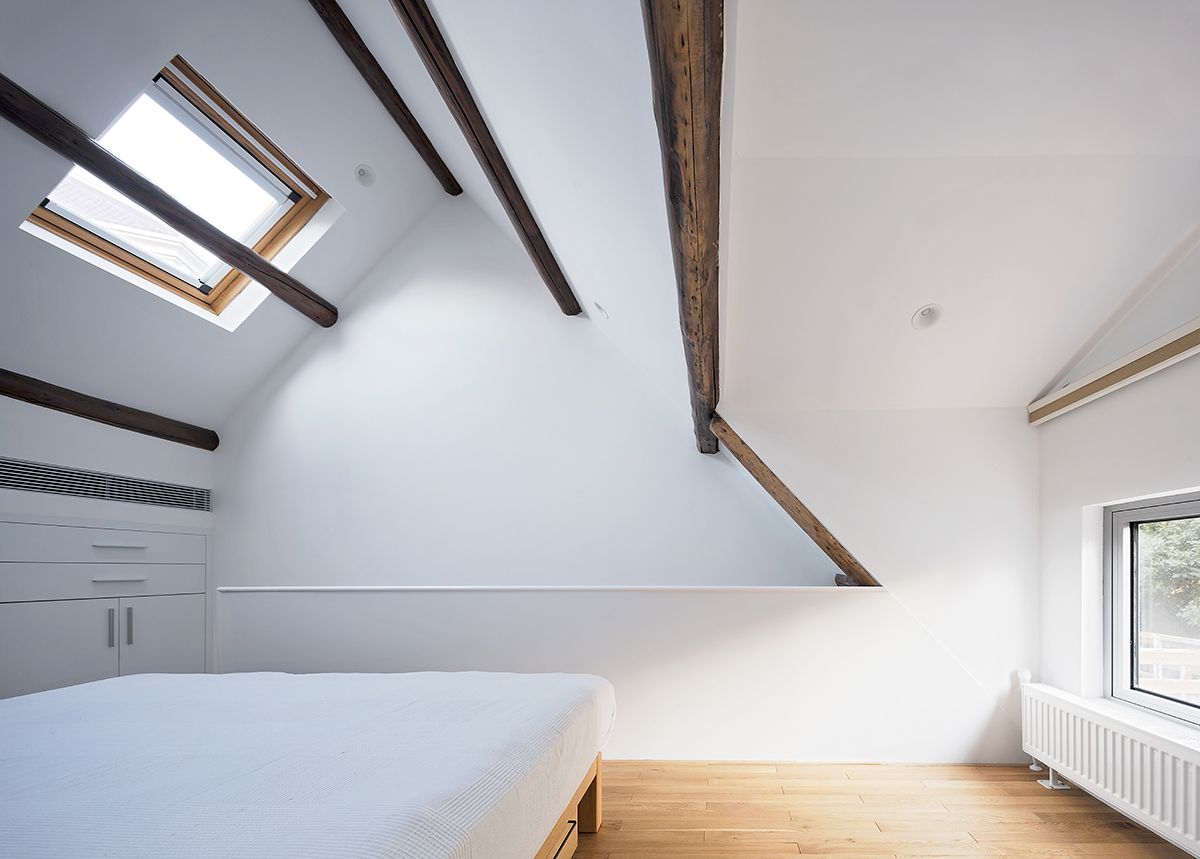 bedroom, 4F | 四层主卧
The entrance on 1st floor, the balcony on 2nd floor, and the terrace on 3rd floor are intermediaries between the building itself and the external environment. The building is reborn and will accompany the new generations.
一楼门厅、二楼阳台,以及三楼的露台,都是建筑本身与外部环境产生互通的窗口,它立于上海老建筑群中,沉淀历史,展开生活。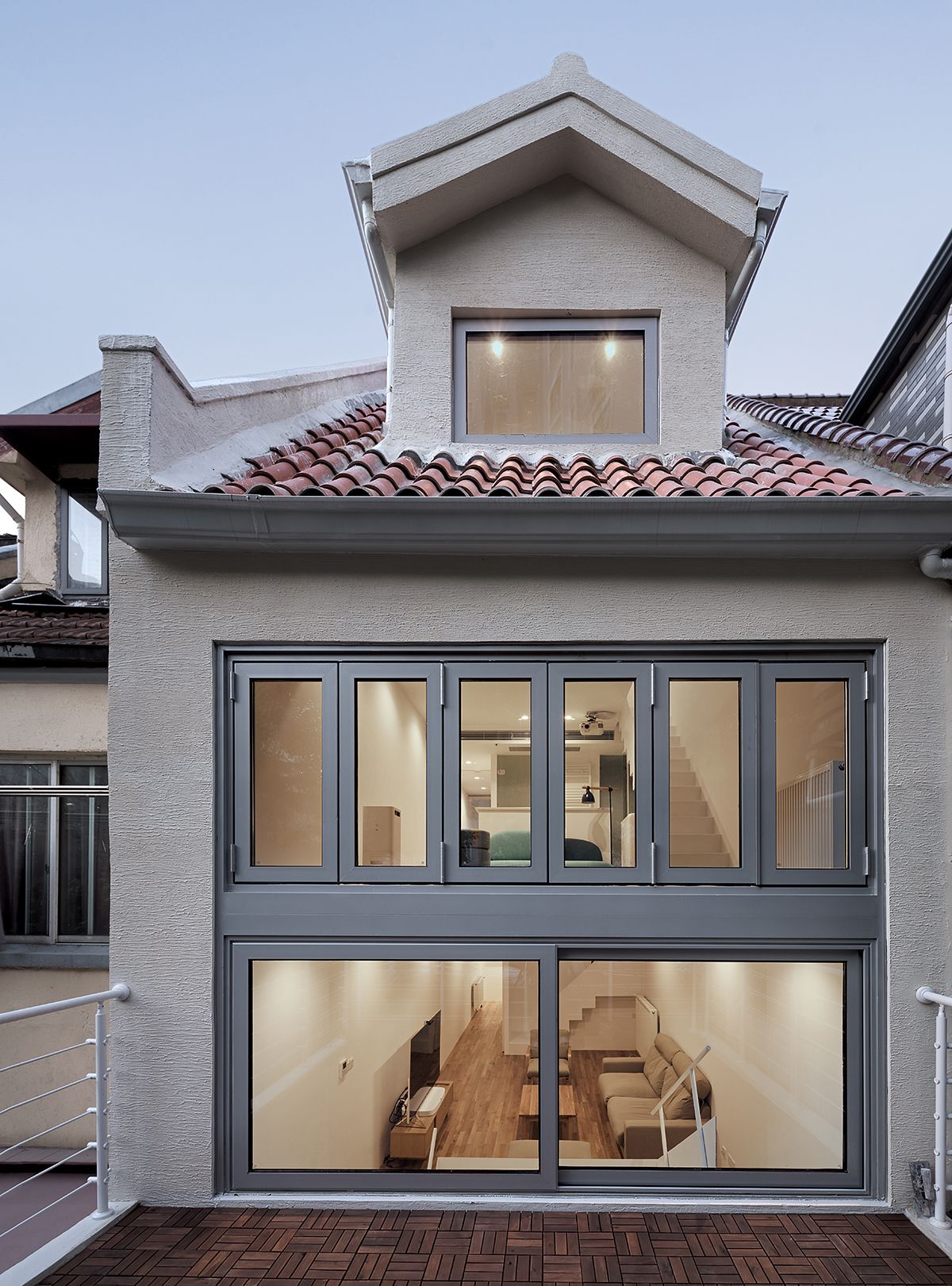 balcony | 阳台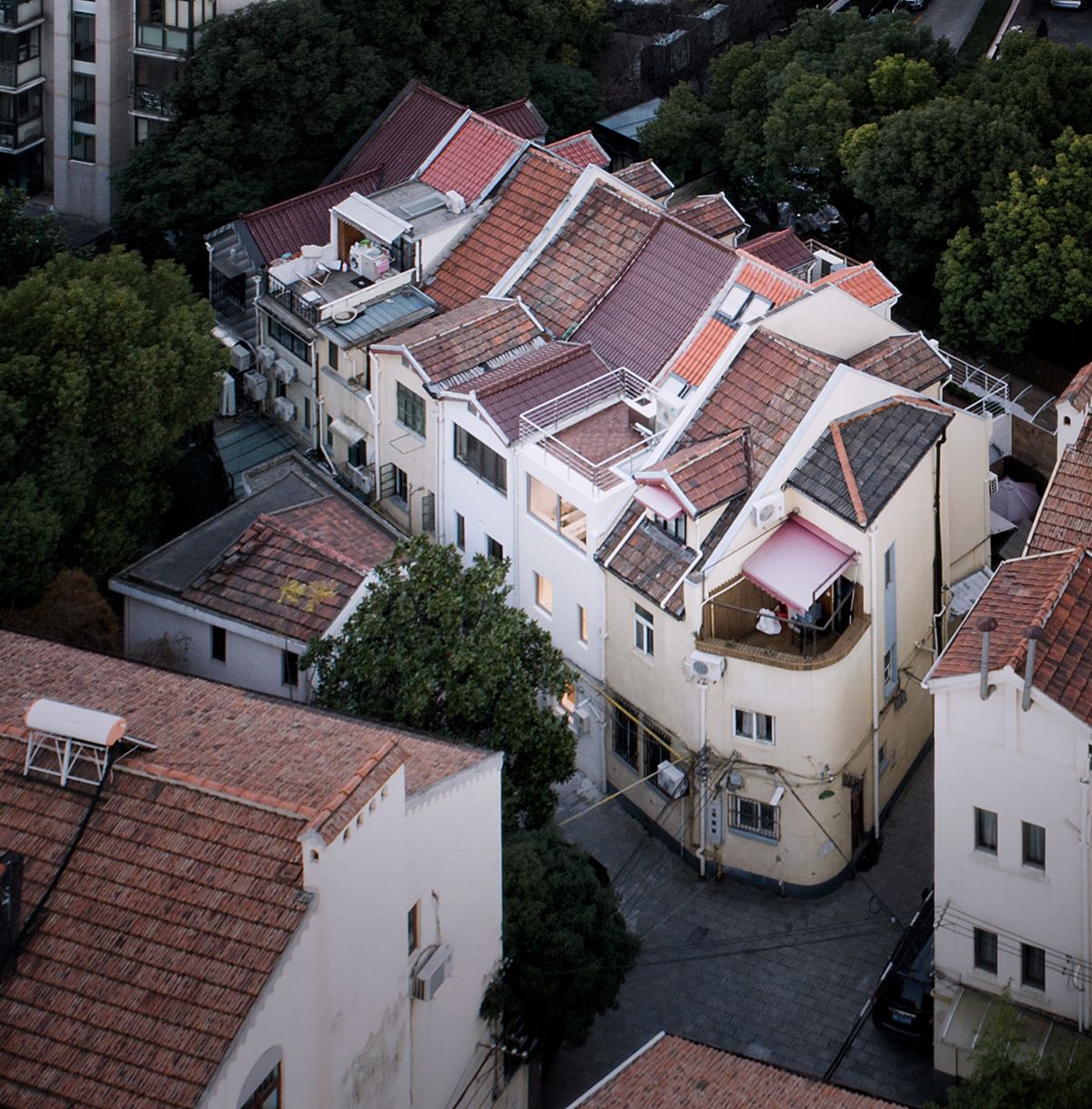 aerial view | 鸟瞰