Buddha says existence being equal.
佛说众生平等。
The Baita Temple was built in Yuan Dynasty. The white pagoda in the temple is the most magnificent and the earliest Tibetan Pagoda in China. Total length of Suluobo Hutong is 130.8m, located In the northeast of the temple. Walking west along the hutong, the majestic white pagoda is in the view. Passing through the depositary of Buddhist texts, heading south and turn around - gate of the white pagoda. It is the most beautiful route of pilgrimage.
白塔寺(妙应寺)始建于元朝,寺内白塔是中国现存最早,规模最大的藏式佛塔。苏萝卜胡同全长130.8米,位于寺东北。沿胡同向西前行,随时可见庄严的白塔,路过藏经阁,一路向南,转身即是白塔寺山门,这是前往白塔朝圣的最美路线。
Suluobo Hutong has preserved historic pattern of the courtyard. For some reasons, 129 families have been moved in successively. Quite a few of them live in a small way, with tiny space barely enough. At the same time, the Hutong area is 1046m2, only used as a dozen of parking spaces. Cramped living condition and vacant hutong space stand in stark contrast.
苏萝卜胡同完整保留了历史院落的格局,由于一些原因,先后搬来了129户居民。居住面积小的甚至只有几个平方,勉强满足生活起居。胡同面积1046平米,却仅仅被用作十几个车位。局促的居住状况和闲置的胡同空间形成鲜明反差。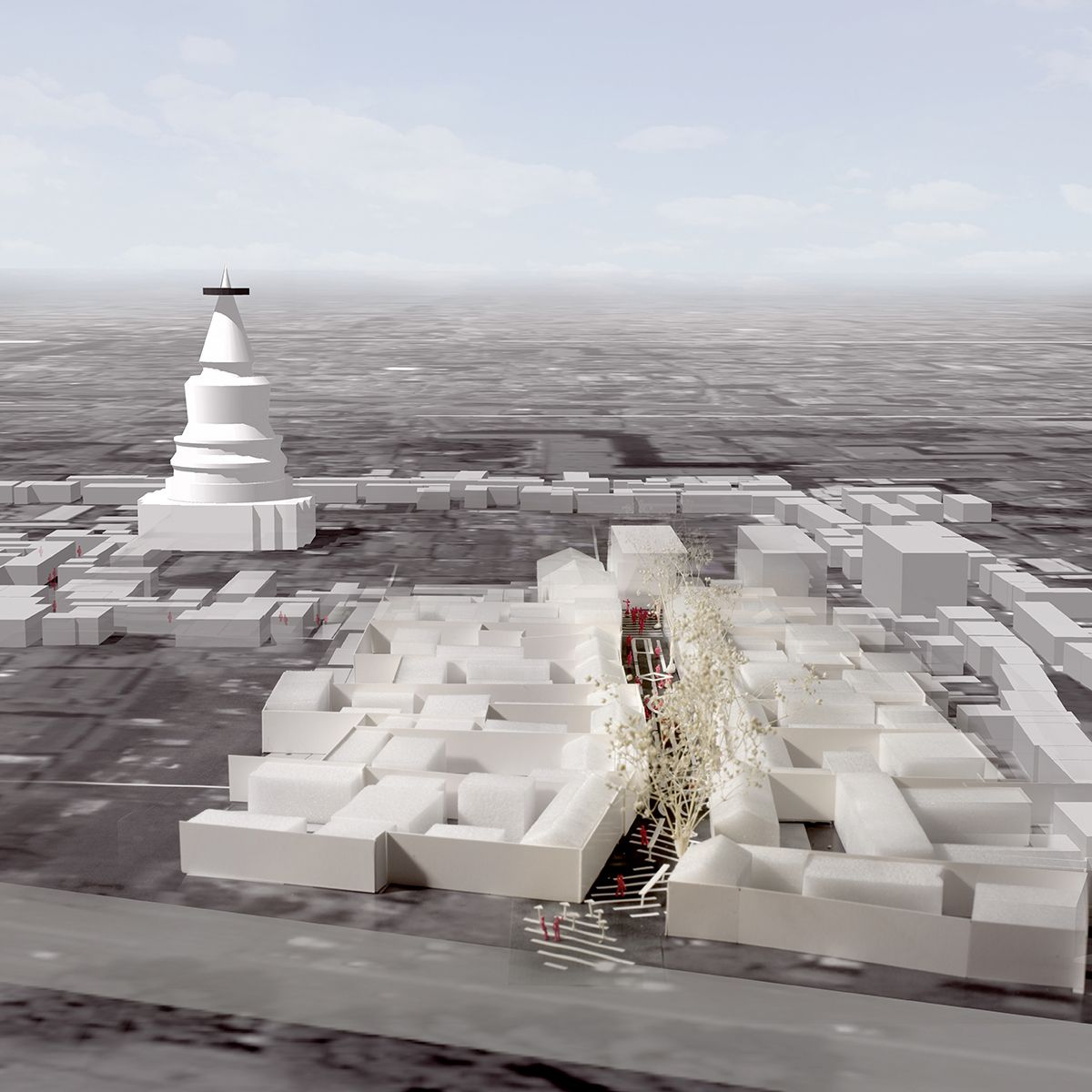 overlook | 鸟瞰

'Table republic' is composed of seven sets of various tables, total length of 94.8m. It provides each family with 0.7m of desktop and 8.2 m2 of outdoor space directly. The residents may grow flowers, dine, drink, chess, party and even send and receive delivery. Someday, just borrow and use the desktops as temporary stalls, the prestigious Baita Temple Fair could be renew. This special chic routine will also be the best choice for monks and believers when going on pilgrimage on the Buddhist festivals.
"众桌"由形态各异的7组桌子组成,全长94.8米,直接为每户居民提供0.7米的桌面和8.2平米的户外空间。平日居民可以在此养花、就餐、品茶、下棋、聚会、甚至收发快递。未来定期借居民的桌面作为临时摊位,亦可恢复久负盛名的白塔寺庙会。每逢佛诞庆典,这条别致的路线又是僧俗信众转塔和朝圣的首选。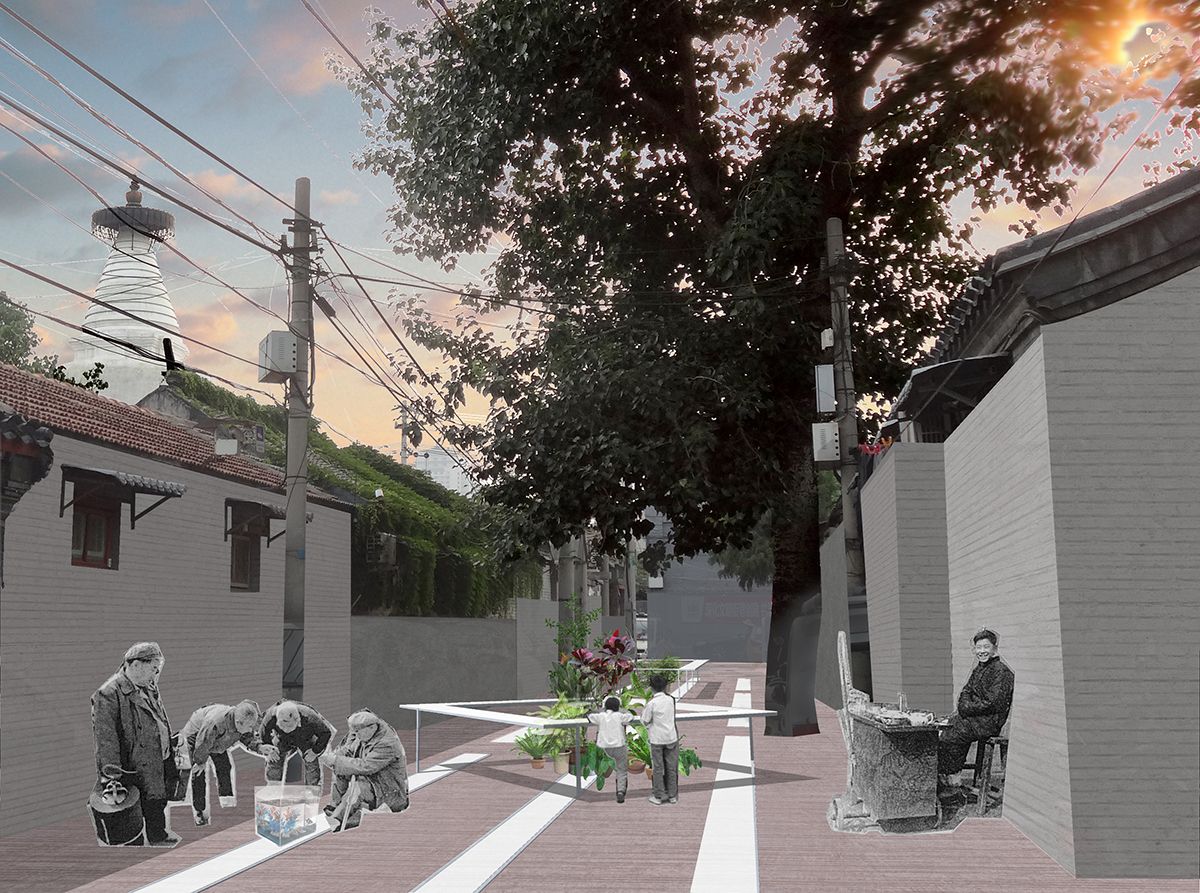 perspective view | 透视图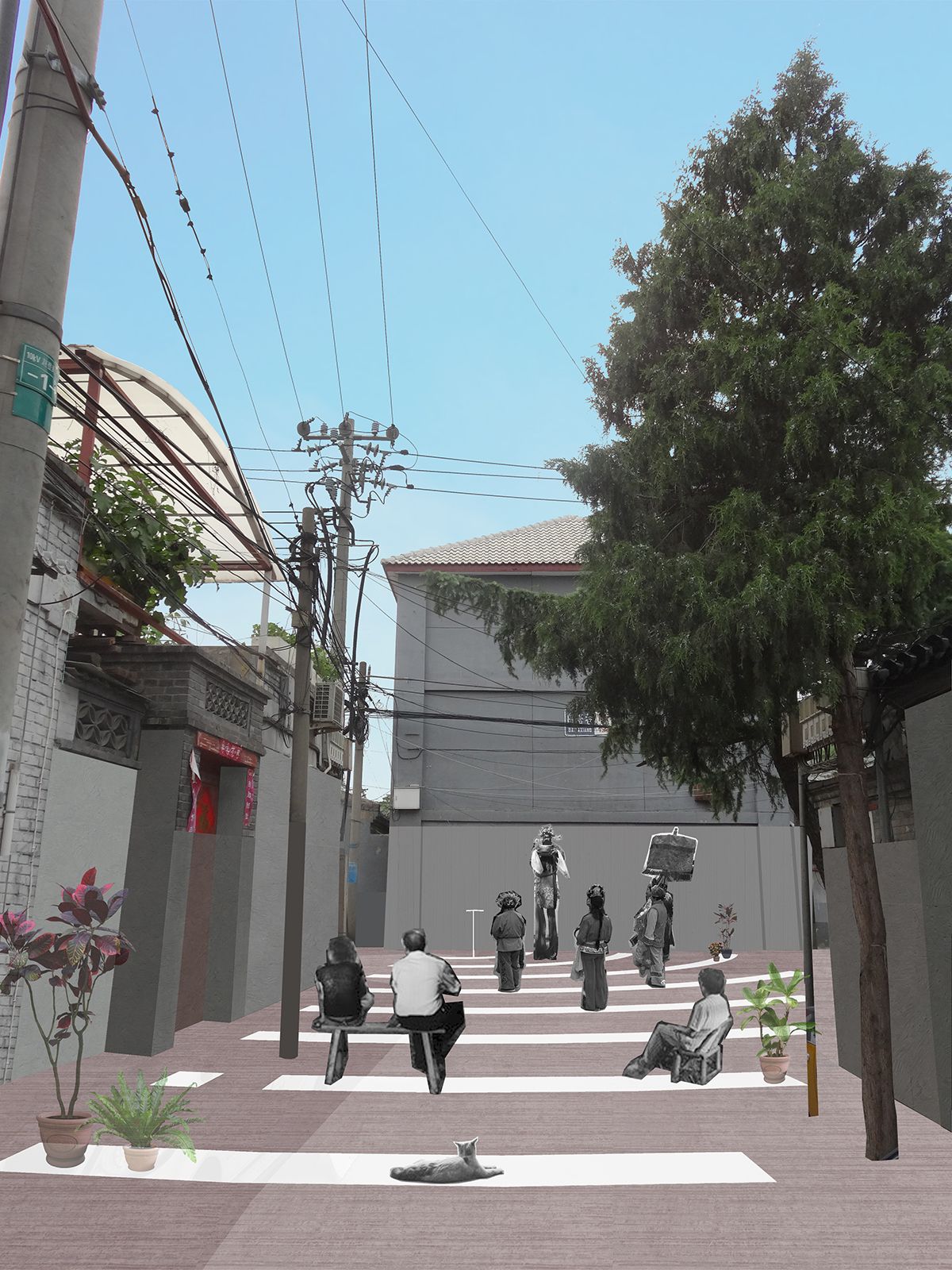 perspective view | 透视图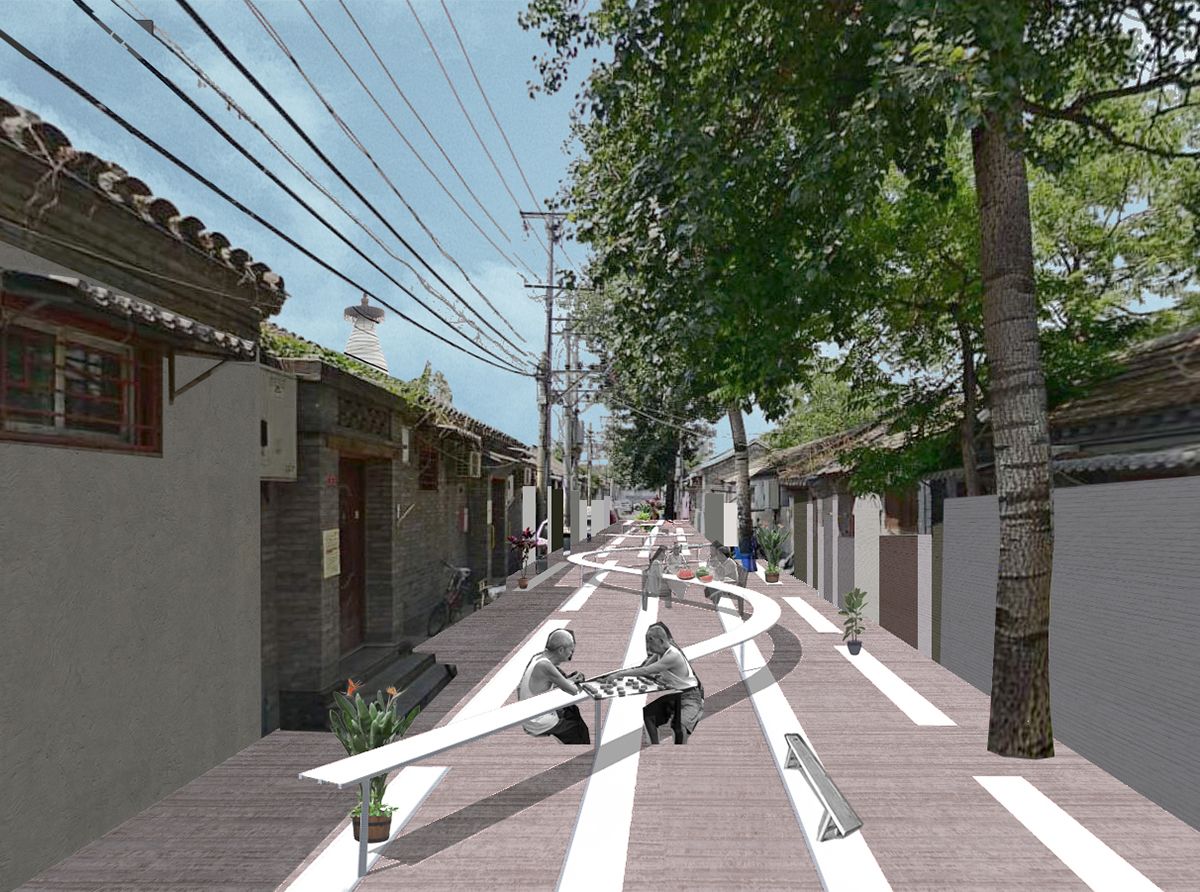 perspective view | 透视图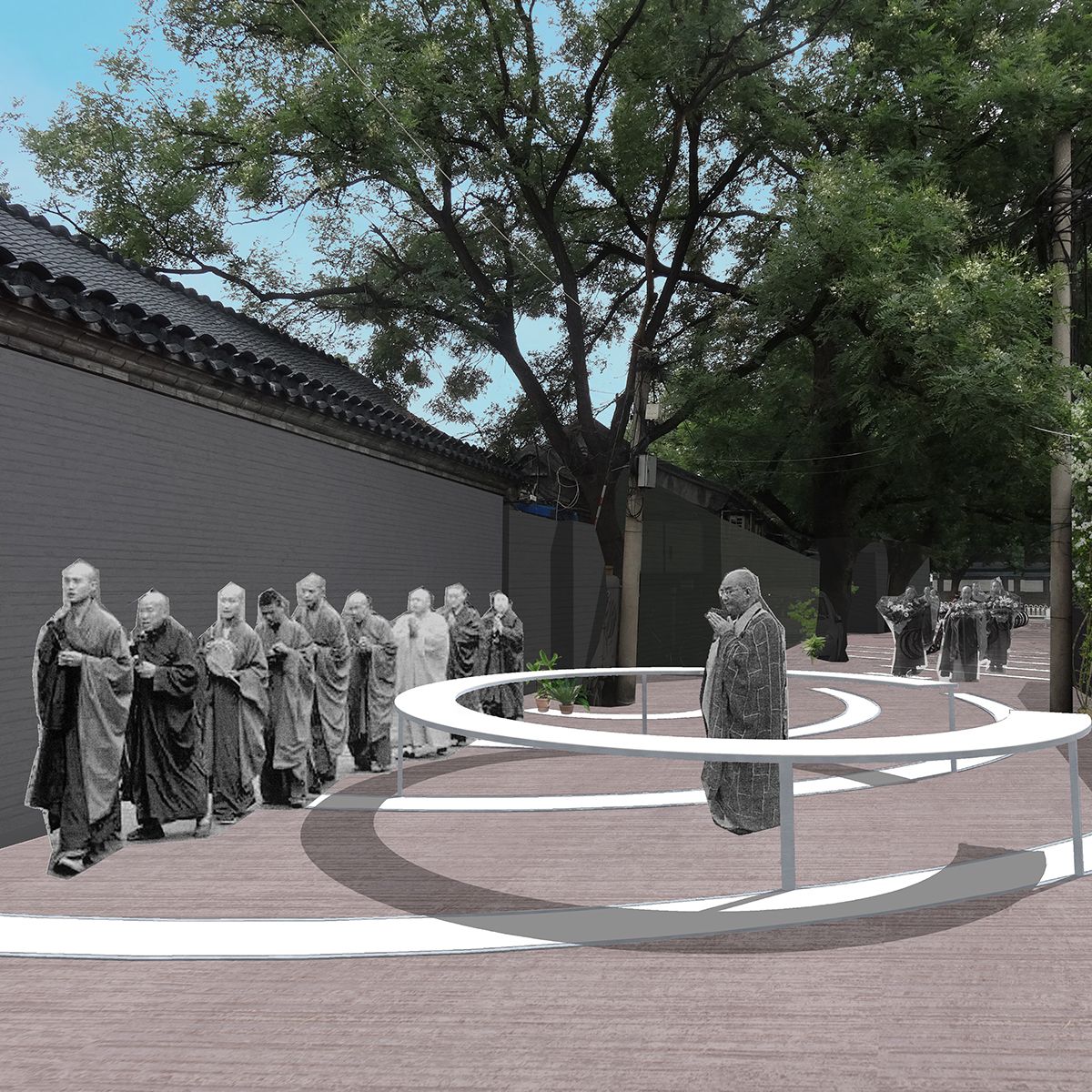 perspective view | 透视图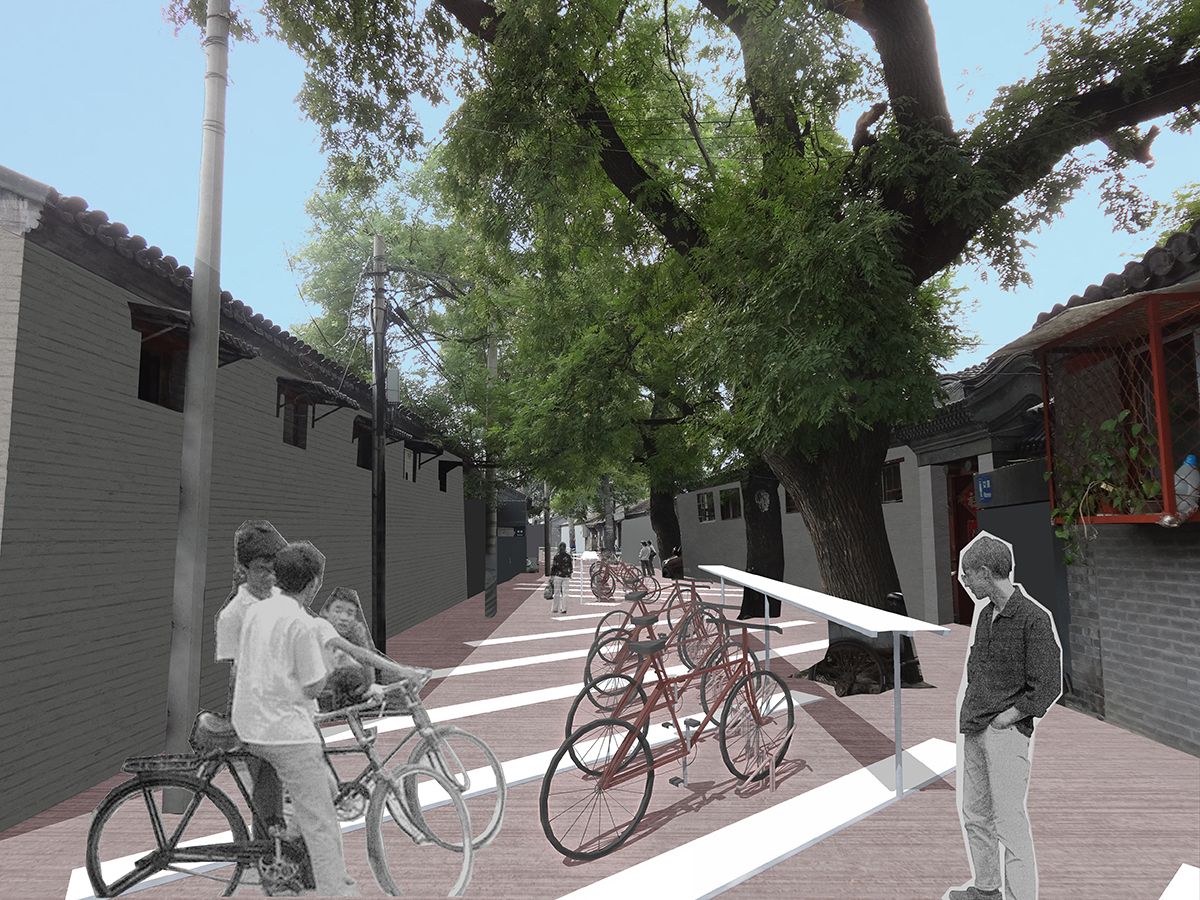 perspective view | 透视图

All space changes are restrained only on the ground design so that history of Suluobo Hutong is clearly presented and remained. Ground pavement extends the form of desktop and they support each other on the structure, while also being incorporated with municipal manhole covers. The square at the courtyard entrance is clearly marked with doorplate.
所有的空间改动被克制的限制在地面上,让胡同的历史变迁被清晰的呈现和完整保留。地面铺装延伸了桌面的形态,也在结构上相互支撑。铺装功能上整合了市政井盖。院落入口处的方形清晰标示每户的门牌。
Residents, monks, tourists and vendors share the space and time in the hutong, new and traditional.
居民、僧侣、游客、商贩共同分享着胡同的空间和时间,新且传统。