This design is for 1+1 Showroom Interior Design Competition held by M O R P H | Creative Consultancy.
这是米凹工作室为M O R P H | Creative Consultancy举办的"1+1 Showroom Interior Design Competition"所做的概念设计。
This international competition aim to reform a gallery to a popular art venue. The gallery space needs special change. The design retains its original function as a gallery but also integrates multipal functions such as business meeting, resting, cocktail party, lecture and ceremony.
1+1艺术中心室内设计意在原有画廊的基础上向受众更为广泛的艺术场馆方向转变,因此需要对空间与功能进行特殊的干预。设计延续了原有的展览功能,并整合了商业洽谈、休憩、酒会、讲座、开闭幕式等新的功能,各个部分之间灵活衔接。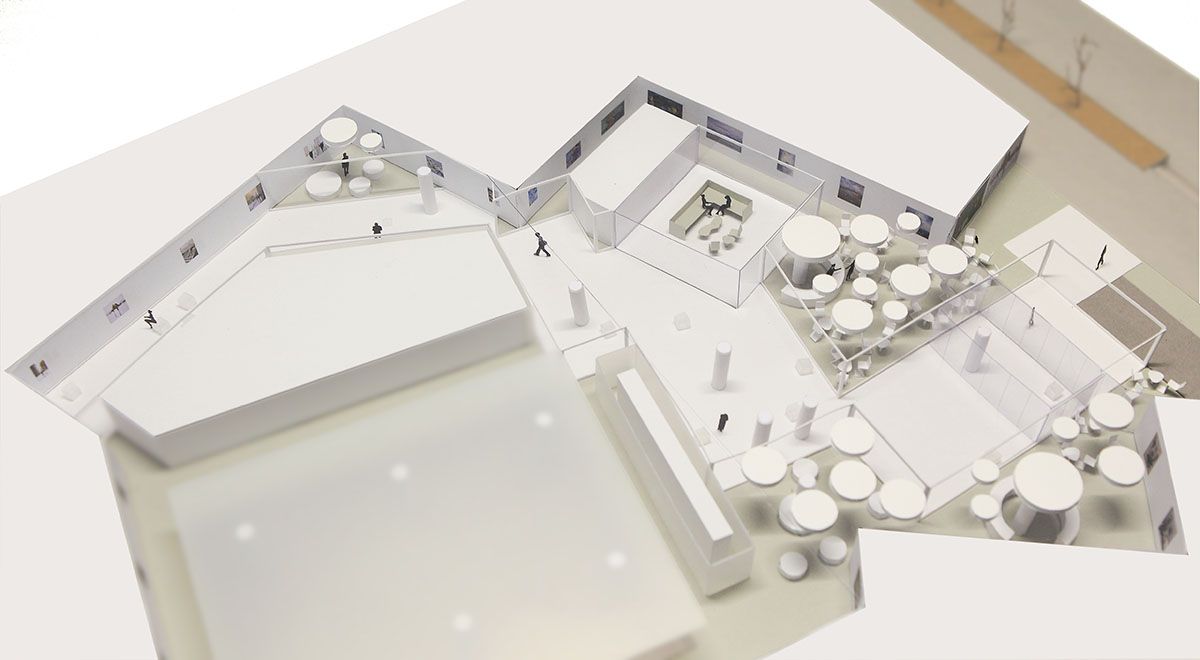 model | 模型

1+1 Showroom is located in old town of Dongcheng District, Beijing. Going through detailed analysis of its current space structure and surroundings, we came up with a conception that an open modern contemporary art pavilion in an historical street will holdover its lasting appeal but also show modern art exhibiting, spreading and inspiriting. We use the traditional characteristics of garden touring path to organize irregular plane graph, thereby separating the spaces as'courtyard', 'door', 'room', 'pavilion', 'booth', 'gallery', 'hall' and so on.
1+1艺术中心位于北京东城区的老城区,经过对现有空间的考察与周边场地环境的分析,我们提出了这样一个想法:在古老街道边设计一座开放的现代艺术场馆,既能延续老街的古朴韵味,又使现代艺术的展示、传播、交流的方式和激发新思想的目的得以实现。我们用具有传统特征的园林式的游览路径来组织不规则平面,从而分隔出"院"、"门"、"堂"、"榭"、"亭"、"廊"、"厅"等即可从意向上联想到苏州园林的空间。
From the entrance outside, the audience has already started their way of an entire art experience. In the hallway they could choose from the curving main axis to tour different showrooms or the continuous walls to see various contents.
从延续到室外的入口空间起,观众就已经开始了一次完整的艺术馆体验。在入口的门厅区域观众可以选择曲折的主轴来欣赏一个个独特的展示空间或者沿着连续的展墙来体验多样的展示内容。

model | 模型
On the main axis, the audience will follow boutique show area and introduction area, then there is jewels and art ware showcase, sculpture show floor, multi-function show floor and furniture show stand, at last reaches main art center. On the other hand, along the wall, the audience will not only enjoy the calligraphy and painting, but also tour the book exhibition and private collection, at last the meeting and rest area where business planes and ideas could be discussed. Both touring line is featured and interesting. They could be flexibly chosen by the audience and could be encountered in some areas. The main axis and the exhibition wall extend outside which become an important label that it is open to the city public.
在主轴上,观众将依次体验精品展示区与showroom介绍区、showroom内的珠宝与工艺设计品展柜、雕塑展场、多功能展场和家具展台,最后来到艺术中心的主展厅欣赏其他展品。若沿着展墙,观众不仅可以连续观看展墙上的书画展,还可以欣赏到在不规则的展区中灵活布置书籍展览区、私人展示区,最后回到洽谈区休憩、交流对展品的商业计划。两条流线各具特色,又在某些展区相互结合,以便观众灵活选择。展墙与主轴一直延续到室外,这将成为这座当代艺术中心向市民开放的一个重要标志。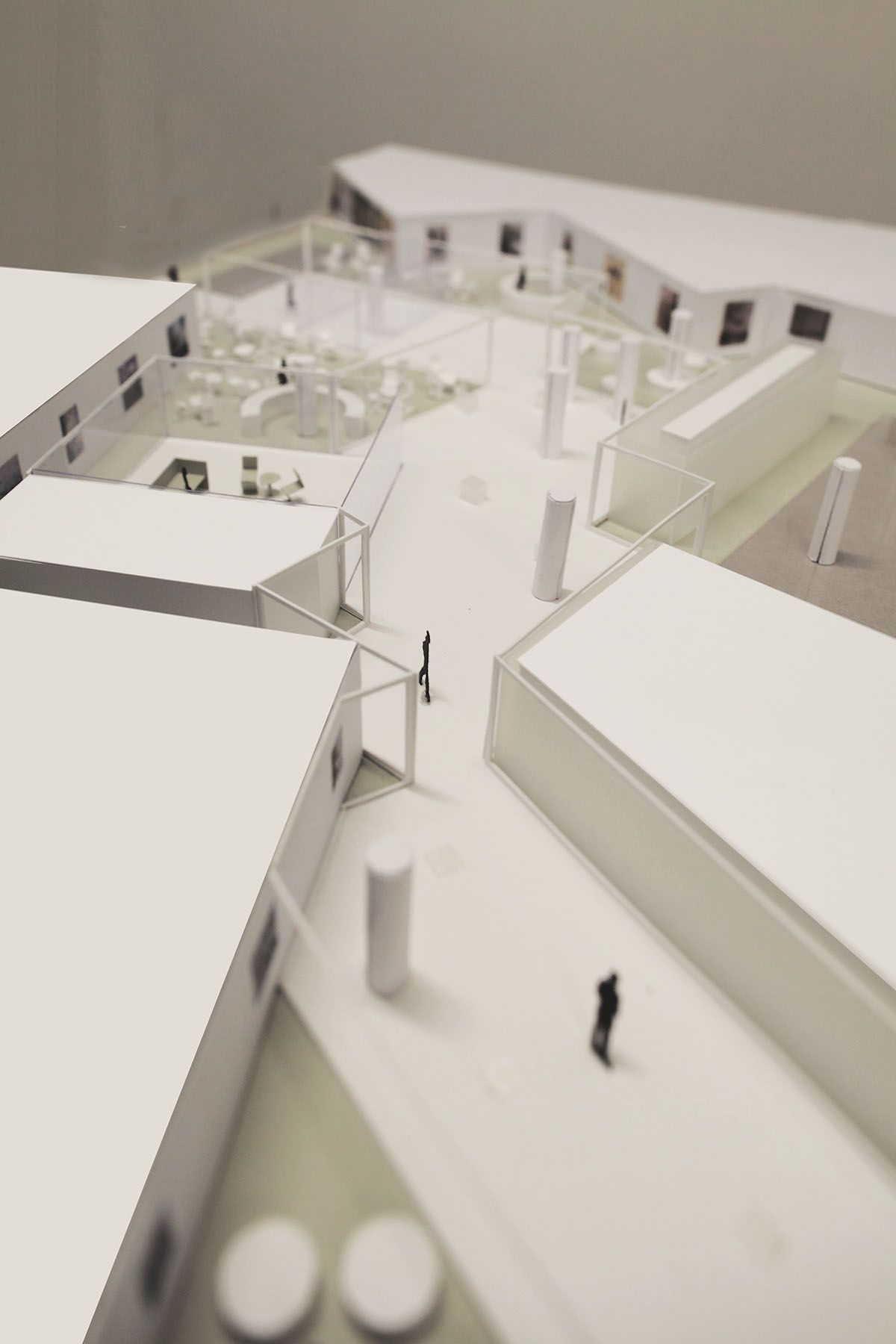 model | 模型